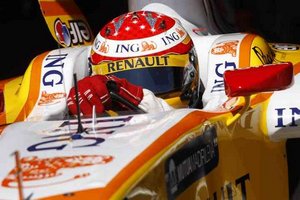 Alonso takes pole in Hungary; Massa survives horrific crash.
Oblivious to his achievement due to the loss of the official timing screens, Fernando Alonso put his Renault on pole position for the first time since 2006 in qualifying for the Hungarian Grand Prix, as news filtered in that Felipe Massa had survived a huge crash at the end of the second qualifying segment.
The Formula One paddock was left in a state of confusion at the end of the qualifying hour as a timing system failure left Alonso's gut instinct and feel for his lap telling him that he had done enough for pole, a bemused conversation with Jenson Button in parc ferme doing little to sway what his heart was telling him.
It is the first time that the double world champion has been on pole position since Shanghai 2006 and the result will carry special significance as Hungary was where the Spaniard claimed his maiden win in 2003.
Sebastian Vettel and Mark Webber were second and third for Red Bull, ahead of Lewis Hamilton, but by the time the positions were confirmed more important news had started to filter through: Felipe Massa was OK.
The Brazilian crashed heavily into the tyre wall at Turn 4 after being hit on the head by debris from Rubens Barrichello's Brawn GP car on the preceding straight. Massa was able to apply the brakes but the undeviating nature of brake marks on the tarmac, allied to the high-speed characteristics of that part of the track, triggered concerns about his wellbeing and indicated that he was pitched directly into the tyre wall at high speed.
Television replays from the car s onboard camera showed Massa being hit on the head by debris, believed to have come from Ruben s Barrichello s Brawn car.
Massa was taken to the circuit medical centre before being taken to a nearby hospital. An FIA spokeswoman confirmed that Massa was in a stable condition but could not provide further details on the extent of any injuries.
The incident delayed the start of the final qualifying shoot out, but when the session finally got underway Alonso was quick to establish his authority posting the benchmark time.
The lap was promptly beaten by Williams' Nico Rosberg before the timing screens went blank, but Alonso managed to go one better on a 1:21.569.
"This is a special circuit for me I had my first win here in 2003, so I will always be happy when I drive in Budapest and it will be interesting tomorrow," he said.
"We made a step forward and the car did improve in the last two races. We are more competitive, maybe not as quick as these two guys. We hope to score some good points tomorrow.
"We will try (to win) but being honest and realistic, our target is to get some good points. After the last four races where we only scored points in the Nurburgring we need some points for the constructors', and we know if we start very heavy we go around 8th/9th position.
"We are aggressive this time, we did what we wanted for pole, from now on we will push for the race. We need to go for it."
Sebastian Vettel and Mark Webber were second and third for Red Bull ahead of Lewis Hamilton and Nico Rosberg.
Last year's winner, Heikki Kovalainen, qualified in sixth place and was lucky to take part in the shoot-out at all after he found himself in the drop zone during Q2.
Championship leader Jenson Button was restricted to a single run in Q3 as Brawn checked his car to ensure that the suspension would not detach as it had done with Rubens Barrichello.
The Brawn driver went eighth fastest behind Ferrari's Kimi Raikkonen. Felipe Massa is classified in tenth place behind Kazuki Nakajima but it is unlikely that he will be fit to take part in Sunday's race.
Barrichello meanwhile will start from thirteenth place having been knocked out of qualifying two. It is the first time that a Brawn car has not been in the shoot-out.
Sebastian Buemi impressed for Toro Rosso in eleventh place demonstrating the pace of the team's new package. Toro Rosso are now using the same package that sister team Red Bull enjoyed at the British Grand Prix.
It was a difficult introduction to Formula One for Toro Rosso rookie Jamie Alguersuari. The Spaniard driver stopped out on the track with a mechanical problem in the closing stages of Q1, and, having posted the slowest time at that point, he will start his first ever grand prix from last place.
It was another embarrassing qualifying session for BMW Sauber as the team continue to struggle. Nick Heidfeld and Robert Kubica were both knocked out of the opening qualifying session and will start from sixteenth and nineteenth respectively.
Force India also failed to deliver on the promise they showed at the Nurburgring a fortnight ago. For a brief moment it looked as though Giancarlo Fisichella would take part in Q2 after a late flyer vaulted him up into eleventh. But quicker laps from Fernando Alonso, Jarno Trulli and Timo Glock saw the Italian drop to seventeenth, behind Heidfeld and but just ahead of teammate Adrian Sutil who crashed in practice three.