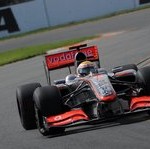 Lewis Hamilton has written off his chances of defending his world championship title this season. The Englishman finished a lapped ninth place yesterday in a McLaren MP4-24 he found very difficult to handle, and is resigned to not being able to fight for the title this season.
"We're not even halfway through the season and the car is really hardcore," he told the BBC after the race.
"At the moment, for sure we don't have the car to win the championship, but the team have done a fantastic job and every weekend they do a fantastic job. It's just a shame they've not given me a car to defend the championship with."
Hamilton's performance nevertheless impressed, as he repeatedly fought for and defended position expertly. After finding himself in last place at the start, where a move from Nelson Piquet Jr pushed the Englishman onto the grass, Hamilton battled his way up through the field to finish just outside the points. After the race, he looked for the positive aspects of his new experiences in the midfield.
"We have great reliability and the morale in the team is high," stated the Stevenage driver.
The season will be a learning one for the team, which has suffered from poor decision-making as well as a difficult car.