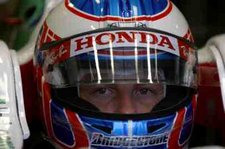 Jenson Button is willing to accept a substantial pay cut to facilitate Ross Brawn's management buy-out of Honda Racing and ensure the team's presence on the grid this year, according to reports.
The British driver, who extricated himself out of a lucrative contract with Williams in 2005 to chase his championship dreams with Honda, is believed to be working closely with Honda Racing chiefs to secure the team's future following the loss of manufacturer backing at the end of last year.
In the absence of a suitable buyer it is looking increasingly likely that Honda's Tokyo bosses will allow team principal Ross Brawn and managing director Nick Fry to press ahead with a management buy-out of the team rather than disband the outfit altogether, which could cost as much as £100 million.
Pitpass has added weight to the speculation today pointing out that
the domain names Brawnracing.com and Brawnracing.co.uk have been newly registered by Caroline McGrory, a former lawyer for Honda Racing.
However, should Brawn and Fry take the helm they will have to make substantial cut-backs to keep the team running which could mean as many as 200 redundancies at the Brackley headquarters.
According to the Times, Jenson Button is determined to play his role in this process by relinquishing at least £15million of his salary over the next three years. The 28-year-old will also pay the expenses and salaries of a small entourage that includes his physiotherapist and personal assistant.
Critics of Button's perceived playboy lifestyle will of course point out that this is but a small dent in the wallet for a driver who earns in excess of £60 million a year, but the gesture is symbolic of Button's underlying motivations, according to a team insider.
"The people who have said that Jenson was a money-grabbing playboy should eat their words," a source told the Times. "He could have held out for his full pay, like certain bankers, and even gone to law with a cast-iron case. But that was never in his mind.
"All he wanted was to come to a deal that would allow him to drive a car put on the grid by Ross Brawn. Nothing else mattered."