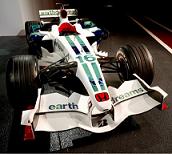 Having been disqualified from the Australian Grand Prix for jumping a red light in the pit lane, Rubens Barrichello has called for a change to the signaling system in the pits.
Barrichello was having an excellent race and was looking to score some points for his team when his luck turned he had a terrible pit-stop for fuel, broke rules by pitting whilst under safety car conditions, hit some of his pit crew and the jumped the pit-lane s red light.
Barrichello finished the race in sixth place, however stewards decided to disqualify the Brazilian from the race. Barrichello claims that he did not see the red light at the end of the pit-lane and believes that a new system needs to be put in place to stop other drivers making the same mistake in the future Barrichello is not alone in having run a pit-lane light. In recent years, Juan-Pablo Montoya, Felipe Massa and Robert Kubica have all also jumped the red light.
"I never saw a red light," Barrichello said. "I will never see it and I don t pretend to see it. They are in the wrong places and by the time you see it, it is too late you have already gone past it. Because of the new ECU, you have different functions and different knobs that you have to change all through the pit-stops and I am still doing that when I get to the lights."
When asked if a marshal waving a flag would be a better option that the pit lane signals, Barrichello replied, "At least or at least a big panel like they had at Turn 3 to show yellow flags. You need something huge like that.
"My problem in the last 16 years of F1 is that of the lights at the end of the pits you don t see them. It has happened to Montoya, Massa and Kubica. Nobody will see it unless someone in the team is prepared to say there is a red light or something else is done. It is unfortunate."