After an unflattering way to open the 2010 season, Formula One will be hoping to produce much more action as the teams head to Melbourne for the second round of the championship.
Situated on a temporary street circuit around the lake in downtown Albert Park, Melbourne has been the host city of the Australian Grand Prix since 1996 and has never failed to impress.
Universally loved, the Australian Grand Prix brings together a mixture of knowledgeable fans and native charm and is one of the most celebrated events on the calendar.
This weekend is expected to be hot with no rain forecast. However, drivers will have to contend with the glaring sunset as the race is once more scheduled to take place in twilight conditions.
Will such challenges allow Formula One to finally live up to its pre-season hype?
(Click to Enlarge)
Specifications:
Laps: 58
Race Distance: 191.110miles
2009 Pole Sitter: Jenson Button (Brawn GP)
2009 Race Winner: Jenson Button (Brawn GP)
Lap Record: 1:24.125s (Michael Schumacher, Ferrari, 2004)
Tyres:
Bridgestone has declared that its Soft compound will be its 'Option-tyre' with the Hard compound being used as the 'Prime'.
Hirohide Hamashima, Bridgestone (Director of Motorsport Tyre Development):
"As we saw last season, Albert Park can present many challenges. This is the first race of the season held on a non-permanent circuit. We expect to see a lot of track improvement over the course of the weekend, which makes finding a good set-up difficult. The track evolution is also an important factor when deciding which tyre strategy to use. We have moved our allocations a step harder for this season, which should mean tyre management is not as challenging as in 2009. Melbourne is very severe for graining and even bringing this harder allocation, competitors have to take care of tyre set up. We think the performance difference between prime and option will be bigger than it was in Bahrain. Also, you can never be certain of the Melbourne weather, so a lot of time will be spent looking at the skies."
Challenges:
As the circuit is not permanent the drivers and teams have to contend with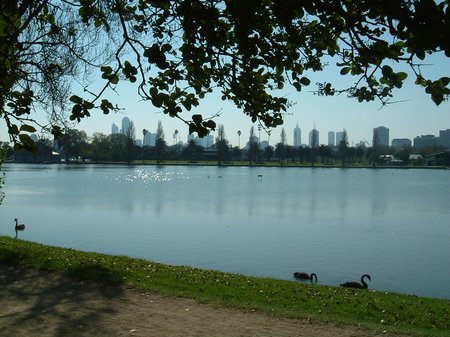 changing track conditions as well as bumps. With grip levels expected to improve as the weekend continues, Friday Practice will be key for the teams to find the adequate set-up for qualifying and the race.
Past data can be very useful here, with drivers aiming to set their cars up to contend with the circuit's numerous slow corners. Ultimately this means that getting good traction is key, as well as having a strong front end to make sure that understeer is kept at a minimum.
On paper the circuit does not appear to present too many overtaking places, however as mentioned the bumps and changing conditions often foster plenty of wheel-to-wheel action during a Grand Prix.
Turn Three offers an excellent opportunity to overtake, as does the super fast turns Eleven and Twelve. The final sector of the lap has also witnessed excitement over the years. (Remember the infamous moment down at Turn Fifteen last year between Lewis Hamilton and Jarno Trulli?)
As well as offering an opportunity to overtake, Turn One has been the scene of a number of first corner accidents down the years and will be treacherous this year – especially with a bumper grid to contend with.
History:
After snatching the contract to host the Grand Prix from rivals Adelaide, the city of Melbourne has successfully organised Grands Prix since 1996. In its debut year, the city saw history made with Jacques Villeneuve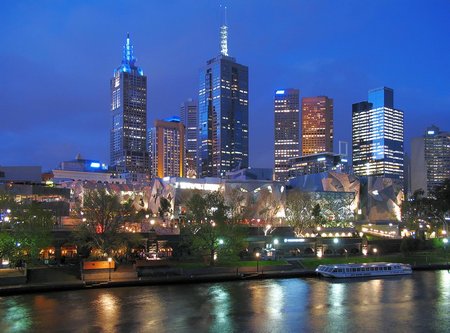 snatching pole on his debut, ahead of team-mate Damon Hill. The inter-team battle would continue the next day, in a race with featured Martin Brundle's terrifying smash at Turn Three. Subsequently Damon Hill would emerge victorious after his rookie team-mate was forced to slow with fading oil pressure.
Two years later and Melbourne hosted a McLaren-Mercedes whitewash, with Mika Hakkinen and David Coulthard blitzing the field to record a stunning 1-2 for the Woking team.
The following year saw Britain's Eddie Irvine capitalise on the unreliability of McLaren to score his first ever victory ahead of an equally impressive Heinz Harald Frentzen in the Jordan.
However, the circuit has also experienced tragedy, when in 2000 a marshal sadly lost his life after being hit by a loose wheel, following a collision between Jacques Villeneuve (BAR) and Ralf Schumacher (Williams) at Turn Three.
Last season Jenson Button recorded a memorable debut victory for Brawn GP. The victory was made all-the-sweeter after a Winter of great uncertainty for the Brackley outfit. Rubens Barrichello finish second to round off an historic outing for the team, but only after Sebastian Vettel (Red Bull) and Robert Kubica (BMW Sauber) collided whilst battling for second position.
Tips
Any Surprises?
Force India will be hoping to build on their ninth place finish in Bahrain. Adrian Sutil believes that the Silverstone-based team can challenge for a top-five finish.
Robert Kubica may also surprise many in the ever-improving Renault. The Pole demonstrated that the R30 has a lot of promise and could have scored highly in Bahrain, had it not been for a first-corner tangle with Sutil.
The One to Watch?
Mark Webber will be hoping to fully utilize his Red Bull RB6 to record an emotional win on home soil.
Paul di Resta will have his first official outing in Formula One as he drives for Force India in both Friday Practice sessions. The young Scot is highly rated and it will be fascinating to see how his times compare to Force India's current race drivers.
The Safety Car – a regular feature of the Australian Grand Prix down the years and will undoubtably spice up the racing action if called upon.
Selected Team & Driver Quotes ahead of the 2010 Australian Grand Prix:
McLaren:
Jenson Button (2009 Qualifying – 1st, Finished – 1st):
"I have some extremely pleasant memories of racing in Australia. As with most drivers on the grid, Albert Park was my first introduction to Formula One, and I really enjoyed my debut, running as high as fourth before retiring. I was on pole in 2006, although I had another non-finish. Of course, last year was a fairytale race for me – I took pole and victory, which was one of the most satisfying and emotional moments of my career. Looking ahead to this year, I think we head to the Albert Park circuit feeling more confident of our overall pace. It s quite a contrast to Bahrain: no tight, low-speed sections and plenty of faster corners. We think the track configuration should suit our package. We learnt some very useful lessons about MP4-25 in the opening race, and the whole team is keen to put them into practice this weekend."
Lewis Hamilton (2009 Qualifying – 13th, Finished – DSQ):
"I ve always enjoyed Albert Park. I had a great race here on my Formula One debut in 2007, won the race a year later and made full use of KERS to drive through the field there last year. But, for me, the best things about the Australian Grand Prix are the people and the atmosphere. The fans in the grandstands, the people in the city and the organisation at the track are all fantastic, and it is one of the most welcoming and relaxing events of the year. I really love it. I had a great race in Bahrain: despite losing time in the opening stint, I pushed like crazy for the whole race and I m pleased that we ve got some decent points on the board. I m looking forward to Melbourne. I like the circuit, I think we ll go well there and I don t think we ll have the same problems that slowed our progress in Bahrain."
Martin Whitmarsh, McLaren team principal:
"Coming just a fortnight after the opening race in Bahrain, there s been only minimal time to add developments to the MP4-25. But we ve got a number of smaller components that we expect to add to the car ahead of the race. We ve had the chance to reflect upon it, and I believe that our start to the season has been mostly encouraging. Our race pace in Bahrain looked respectable – we had the fastest car for much of the second half of the race – and I think we now have a clearer idea of how to set the car up over a grand prix weekend. Of course, we re under no illusions that the opposition will be tough – and we expect a fantastic battle in Melbourne this weekend. The Australian Grand Prix organisers put on a fantastic event and it s an event I always look forward to with huge enthusiasm. I hope that we can put on a great show for everyone."
Mercedes GP:
Nico Rosberg (2009 Qualifying – 5th, Finished – 6th):
"The Australian Grand Prix in Melbourne has always been a successful race for me. I have been in the points for my last three races and had my first podium finish there in 2008 when I finished third. Melbourne is a great city so I really enjoy visiting and the Albert Park street circuit is exciting. It's quite a challenging track as the public roads are always dirty to begin with and there are a lot of bumps to negotiate. With the change in the time of the race last year, the low sun was one of the most difficult things due to the late afternoon start."
Michael Schumacher (2009 Qualifying – n/a, Finished – n/a):
"Australia has always been one of the highlights on the Formula One calendar and this has never changed for me in all my years of competing. As in previous times, I arrived on the continent quite early and have spent some nice days training, adapting and relaxing in order to be fit and rested for the race weekend. I have a lot of good memories from Melbourne and most of the time, we saw interesting races there. I am very happy with the outcome of the season opener in Bahrain. Sixth position was good for me, especially considering how few times I have driven an F1 car since my retirement. I am sure that Melbourne will help me to get into the rhythm even more and I am looking forward to it."
Ross Brawn, Mercedes GP team principal:
"The team did a good job in Bahrain but we accept that we were not competitive enough and that we have work to do to close the gap to the leaders. I was very pleased with the performance of Nico and Michael and the way that they worked together to provide clear and consistent feedback to develop the car over the weekend. Whilst our car is fundamentally strong, we have a development plan in place for the next few races which should bring the required performance improvements to compete at the front. Looking ahead to the next two races, the Australian Grand Prix is always a popular race with the teams and the fans so we hope to see a more exciting race at Albert Park next weekend. We then head to Malaysia for the home race of our title partner Petronas. With an exciting programme of activities scheduled at the Petronas Pit Pulse fan zone in Kuala Lumpur, it will be a busy and enjoyable fortnight for the team."
Norbert Haug, vice president Mercedes-Benz Motorsport:
"The forthcoming Australian Grand Prix at Melbourne's Albert Park is the first of two races within eight days. The layout of the traditional race track in Melbourne, which will host its 15th Formula One World Championship race since 1996, is quite different to Bahrain where the season-opener took place. I expect quite a challenging race for us. The base of our car is good and the team is working hard and focused to achieve the next development steps. It will take some time to close the gap but we will definitely close it sooner rather than later. Our spirit is first-class and the whole team is looking forward to the race weekend in Melbourne."
Ferrari:
Fernando Alonso (2009 Qualifying – 10th, Finished – 5th):
"I like the Albert Park track. It's quite a technical circuit with some pretty interesting corners. Overtaking has never been easy and what is even more important now, like on all city circuits, is the result in the qualifying. We have to see how the tyres behave with different fuel loads and temperatures, which will be different from the ones we had during testing and in Bahrain.
"The weekend in Melbourne is one of my preferred ones for the atmosphere at the paddock and in the city. It's really special and it seems that everybody is following the event. There's lots of action on the track and it's good to see so many people on the grandstands. Let's hope we can provide a good show to our fans, for more great satisfaction."
Williams:
Rubens Barrichello (2009 Qualifying – 2nd, Finished – 2nd):
"Melbourne is a great place for a Grand Prix. The racing is always competitive so it s a good track from a fan perspective; it s also a very social city so it s nice to hang out there. I like Albert Park a lot. It doesn t really feel like a street circuit, it s very challenging and has some interesting corners to negotiate. We had some minor problems in Bahrain but we have resolved them now for Australia. I m positive we will have a stronger race this weekend."
Nico Hulkenberg (2009 Qualifying – n/a, Finished – n/a):
"As a circuit, I don't know Albert Park at all as I haven t raced there yet. I spent a few days in the factory last week going through practice runs on the simulator and running through data with my engineers which was really helpful but nothing beats having time on the track itself. Bahrain wasn't the best race for me, but there were some positives to be taken from it because it highlighted where we need to do some more work. I m hoping that we will have a more successful weekend in Australia as a result of what I learnt in Bahrain, and what the team have worked on since we came home. I'm flying out to Sydney on Saturday morning for a driver day with RBS on Tuesday. I then have an appearance for Randstad on Wednesday in Melbourne before heading to the circuit."
Sam Michael, Williams technical director:
"Albert Park is a low grip street circuit, and you re normally on the limit when it comes to tyre graining. As a result, careful management of car set-up throughout the weekend is a pre-requisite. We will have some improvements for the FW32 in Australia that we will roll out during Friday s practice sessions. It's going to be a really interesting weekend in terms of seeing how the teams perform on such a different track in comparison to Sakhir. In terms of strategy, Bahrain gave a good indication as to what will be the most likely pit strategy for Melbourne."
Renault:
Robert Kubica (2009 Qualifying – 4th, Finished – 14th):
"Overall, before the start of the season, I had the feeling that Melbourne would be a better circuit for us than Bahrain. Now that we have seen the other cars running and collected more information about where we stand, I think even more that it will be a good circuit for us. The circuit is very low grip at the start of the weekend, and you need good mechanical grip, braking stability and ride, so I hope we can put in a strong performance and achieve the car s full potential."
Vitaly Petrov (2009 Qualifying – n/a, Finished – n/a):
"My goal now has to be to get closer and closer to the top ten without making any more mistakes. The most important thing is to learn the track and understand how it flows. I need to get out there and feel the tarmac, see the kerbs, walk a lap to have the right feeling for what I need to do. Then I will do the best job I can and we ll see what happens."
Alan Permane, Renault chief race engineer:
"Albert Park is a track where you need good braking stability because it s very bumpy in the braking zones. You also need good traction because the lap is mostly made up of second and third gear chicanes where a good change of direction is important. In the final part of the lap the car wants to understeer, especially through the final corner onto the pit straight, so you need a good front end to cope with this. We have some new aero parts for Melbourne, which should give us a bit more performance. There s a new front wing and a new part on the rear wing, which improves our overall downforce. The target is to get both drivers into Q3. I think that s a realistic target given our competitiveness. If we can do that then both drivers should be capable of fighting for points."
Force India:
Adrian Sutil (2009 Qualifying – 16th, Finished – 9th):
"The Australian event is one of my favourites. It's quite a nice street circuit with a few run off areas through a park so it's very beautiful. But it's also very challenging with a lot of quick corners and a few slow speed corners so altogether it's a great circuit to race on. I also have a lot of history there – I made my race debut for Spyker at the track in 2007, it was where Force India made their race debut the next year and then last year I was ninth. If we can get that position again this year that's two points! We've got to aim for this or higher – I'm pretty happy with where we were in qualifying and how we performed in the Bahrain race so we've got a lot of reasons to look forward to Australia now."
Vitantonio Liuzzi (2009 Qualifying – n/a, Finished – n/a):
"We have some new developments on the front and rear wing. I'm pretty hopeful it will be a step forward as every upgrade we made last year was positive, so the correlation from the wind tunnel seems to be working well. Of course you never know what the others are bringing but I would hope this would move us a little closer to the teams in front. My target would be to get into Q3 this time out and then, of course, get into the points again."
Dr Vijay Mallya, Force India chairman and team principal:
"We've got a solid car to start with, and we've got a good base, and now it's about the development rate for the rest of the year. With the new upgrades we have in the pipeline for Australia I can say with every faith that we can carry the momentum forward."
BMW-Sauber:
Pedro de la Rosa (2009 Qualifying – n/a, Finished – n/a):
"I'm very much looking forward to this Grand Prix. I really want our performance in Bahrain to be forgotten. Also it is one of my favourite Grands Prix because of the great atmosphere there. My last race there was in 2002. In 2005 I drove in Friday practice. This means I definitely have some memories of the track, but it will be like learning a new one for me. I believe we will be more competitive in Melbourne. Reliability was never an issue in testing, and it was very unlucky that we retired with both cars in Bahrain and with two different reasons as well. Albert Park is a difficult track with many chicanes, stop and go corners and bumps. As it is not a permanent race track it changes significantly over the weekend. This makes it important to read the track properly in order to deal with the grip level. It will not be easy for us in Australia and we need to work hard to be able to fight for points."
Kamui Kobayashi (2009 Qualifying – n/a, Finished – n/a):
"For sure I hope we will be more competitive in Melbourne than we were in Bahrain – we just have to be. I only know the track from the Toyota simulator which I have been in after the race in Bahrain. I like the lay-out of the Albert Park Circuit, and I also like Melbourne as a place. I have been there twice as a reserve driver. The city is great and the spectators are true fans, so I can't wait to race in front of that crowd. To me a four week trip begins now and I'm really excited about that. From Melbourne we go to Kuala Lumpur and before the race in Shanghai I go and spend some time in Japan."
Willy Rampf, BMW Sauber technical director:
"After our disappointing performance in Bahrain we have to make up for a lot in Australia. We have analysed the data and drawn conclusions accordingly. I expect us to be significantly more competitive in Melbourne. The failures were caused by hydraulic leaks in both cases, but for different reasons. For both problems we will have solutions ready for the race.
"The Albert Park Circuit is a stop-and-go track, being very demanding on the brakes and requiring high brake stability as well. At the same time good traction is a must. You drive with maximum downforce. Especially at the beginning of the weekend, the grip level is very low and then improves continuously. You have to make sure this development doesn't confuse your set-up work and so you have to keep working in the right direction. I'm curious about how the tyres will be working. Last year the softer of the two compounds was degrading badly after just a few laps. This time Bridgestone is providing us with a harder compound, which naturally has an impact on the set-up."
Virgin:
Timo Glock (2009 Qualifying – DSQ, Finished – 4th):
"Australia is usually a good race. It s a great city and I look forward to it every year. It s one of the best weekends on the Formula One calendar. The track itself is a street course, very different from a race track, and quite special. I got a bird s-eye view of it on Wednesday when I flew over the track in a heli – a bit of fun and a great way to recce the track layout. It s a fantastic circuit and I m hoping it will bring us good luck. We had a tough time in Bahrain but there were some positives too. We learnt some good lessons which can only make us stronger. The main target is to do everything we can to ensure reliability doesn t stop us from making it to the flag. Hopefully we ll get another strong qualy in the bag too."
Lucas di Grassi (2009 Qualifying – n/a, Finished – n/a):
"I ve been to Australia a few times but I ve never raced at Albert Park before, so it will be an interesting weekend! Basically, I can t wait to get back in the car again and experience the track. Australia as a destination actually reminds me of Brazil – the weather is nice and the people are warm and friendly. I ve been out here for a few days now, acclimatising to the time difference and ensuring I m relaxed for the weekend ahead. As for the relaxation part, I went surfing with Championship winning surfer Damien Hardman along the Great Ocean Road on Wednesday. I m a big surfer – and pretty good, if I say so myself – so it was fun to head out of the city to catch a few waves before we get down to the serious stuff.
"We re hoping to make a few waves on track this weekend also. We obviously want to build on what we saw in qualifying and reach the finish. I was really pleased with my debut qualifying and race start but obviously I want to carry that through to the race now. I m looking forward to it."
Nick Wirth, Virgin technical director:
"It was disappointing to end our debut race with two retirements, but we take a lot of encouragement from knowing that our issues are specific and isolated, which means they are easily addressed. No one said the first few races would be easy and Bahrain was gruelling to say the least. But far better to flush out the problems early on and deal with them and that is exactly what we have been doing in the two week gap between these two races. We have some new parts which we hope will provide a robust solution to the new hydraulic problem and transmission issue we experienced in Bahrain.
Hispania:
Karun Chandhok (2009 Qualifying – n/a, Finished – n/a):
"I am really looking forward to my second F1 race this weekend. I have never driven in Melbourne, but I am a very quick learner. I was able to work on a team s simulator before the Grand Prix so that will help my familiarisation a little bit! Our next step with the team s engineers is to make the car reliable for the race. The secret of good racing preparation is to complete as many laps as possible on Friday to see where we are with the car. Finishing the race would be a fantastic achievement we will strive for."
Bruno Senna (2009 Qualifying – n/a, Finished – n/a):
"We need to continue building on what we achieved in Bahrain. We put two cars together and ran successfully in Bahrain. Now we must continue to work as a team. I came early to Australia to acclimatise to the time difference. I love Australia more and more, as I spend more time here! I have already driven on the Melbourne track, back in 2006. I did the F3 support race for F1 back then and had a fairly successful weekend. I won! Now, I must work with the team to continue learning about the car. I have enjoyed working long hours with the team so far and I will be giving my all as I really want to progress and guarantee them good results."
Colin Kolles, HRT team principal:
"We have worked extremely hard since the Bahrain season opener. We have worked long hours and successfully with Bridgestone, Cosworth and Xtrac learned from our first laps with the car and found a good basis from which to start preparation for our second Grand Prix in Australia in a few days. We have successfully repaired the damage sustained by Karun Chandhok s car and focused on building our car s reliability. Our goal is to improve steadily and the next step is to work towards our first race finish. I am confident we will achieve this goal very soon and having seen how we came together as a team in Bahrain I can see just how much potential and commitment we have."