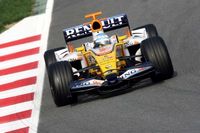 Don't expect us to spring any surprises this year warns the double world champ.
Fernando Alonso has fuelled further speculation that he is set to leave Renault at the end of the year after admitting that he does not see the French team improving on its so far disappointing mid-field pace.
The double world champion had a torrid time in last week's Malaysian Grand Prix, barely scraping into the last qualifying session and spending most of the race languishing down in eighth place behind Renault customers Red Bull. The result was a far cry from his dominant victory in Kuala Lumpur a year ago with Mclaren.
After the race the 26-year-old told his official website that he did not believe things would get much better for the Enstone-based outfit.
"The race was more or less as I expected," he confirmed.
"Being among the first eight I knew it was difficult and if Massa did not retire we would not score. That is the situation and there were not surprises.
"The car will maintain its performance more or less the same during the whole year."
Unlike the season-opening grand prix in Melbourne where Alonso was able to carve his way through the chaos to a superb fourth place, in Malaysia the Spaniard was thwarted by a resilient Mark Webber and slipped back to eighth after starting seventh.
"When the car doesn't go you feel powerless," rued Alonso hinting at a less than adequate straight line-speed from his R28.
"Either in Australia or in here where we had to fight closely, we lack of final speed, you approach to the car you have ahead but in any straight you will neither overtake nor reaching so you remain behind waiting for the failure but nothing more."
Alonso's concern over straight-line speed comes at inconvenient time for his engineers with a five-year freeze on engine development now in force.
While the team are focussing instead on aerodynamic improvements for Alonso's home race in Barcelona, the Spanish hero does not believe it will be enough to surpass his competitors.
"In Barcelona there will be some improvement," explained Alonso, but he warned: "it will be the same for all teams, so the same way will be for the championship.
"It happened past year and happens every year. We are not going to see great surprises the rest of the year. Step ahead and improve two or three tenths is our aim".
Elsewhere Alonso has refused to deny rumours that link him with a Ferrari drive in 2009.
"It's early to talk about moves and rumours, but Massa has had two bad races with mistakes and that has kicked off speculation. It's logical, but as I said, it's too early," he told Spanish sports newspaper Diario As earlier in the week.
"I always try to be in the best car. I'm at Renault now because I wanted to go back to winning, like in 2005 and 2006. If not this year, then next year.
"But I have an option to leave so I can still be in the best possible car, and it is clear that Ferrari's is one of the best."
The comments follow Alonso's admission after the Malaysian Grand Prix that he has a get-out clause in his Renault contract.