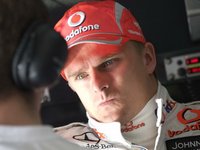 It is only a matter of time before Heikki Kovalainen climbs onto the top step of the podium, according to McLaren chief Martin Whitmarsh.
The unlucky Finn has suffered a catalogue of mechanical problems and incidents in the last few races and has failed to score points befitting of the blistering pace he has demonstrated behind the wheel of his MP4-23.
In Monaco last week the McLaren driver watched his team-mate romp to victory while a gear selection problem dashed his own chances of before the race had even begun. After the race McLaren engineers were reportedly as gutted with Kovalainen's start line woes as they were elated with Lewis Hamilton's career first at the Principality.
To make matters worse, the 26-year-old arrived at the Principality already with a significant points deficit to the championship leaders, his high speed shunt in Barcelona and a collision with Kimi Raikkonen in Turkey effectively writing off his races.
McLaren CEO Martin Whitmarsh has been quick to praise Kovalainen for the way he has battled against the grain and overcome the race-ruining problems, two of which – a broken wheel rim in Spain and a software glitch in Monaco – were caused by deficiencies in his McLaren.
"Heikki of course has performed quite brilliantly in his first six races with the team and therefore has to come out of it with some disappointment," affirmed the Englishman.
"Whilst there is underlying satisfaction with his personal performance, Heikki has suffered some misfortune, which has taken from him the opportunity to win his first Grand Prix."
The McLaren chief added that Kovalainen is destined for success in Formula One and that it would only be a matter of time before he claims his maiden victory.
"He is an extremely positive guy who realises that he has a great career ahead of him and there is no doubt that he is going to enjoy many Grand Prix victories during the course of his career."
The F1 circus heads across the Atlantic this week for the seventh round in the Formula One World Championship in Montreal. The track marks a significant turning point in Kovalainen's career.
It was there last year that the Finn rejuvenated his career with an impressive charge through the chaos to fourth place, despite writing off his Renault in both practice and qualifying and starting from plum last.
Kovalainen is determined to put in a similar performance this year and achieve a decent result for his new team.
"I am going to Montreal to get a good result with the team," asserted the former Renault driver.
"The last few races have been pretty difficult for one reason or another, but all the time we know the car is quick and now I am hoping to be able to demonstrate that."