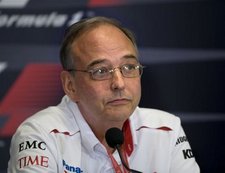 Toyota boss and FOTA vice-chairman John Howett insists that the teams' opposition towards the FIA over its plans for 2010 is not an attempt to overthrow the governing body and seize control of the sport, but about putting in place "sensible governance."
The teams' opposition towards the FIA's proposed budget cap for 2010, which resulted in them submitting conditional entries for next season, is as much to do with the manner in which the governing body forged ahead with its plans without proper consultation with the teams as the capping proposal itself.
Which is one of the reasons the FIA sparked outrage yesterday when it published the entry list for the 2010 world championship sparked and included those teams who had submitted conditional entries – there was no recognition of the teams' underlying concerns.
The governing body has issued an ultimatum to the teams calling on them to withdraw their conditions from their entries (the teams say they will only take part if a new Concorde agreement is signed on the make up of the sport and that the rules are kept identical to 2009).
FIA President Max Mosley has conceded some ground to try and make that happen such as increasing the budget cap to 100 euros. However, FOTA insists that there are more fundamental issues at play around the future governance of the sport.
"What we want primarily is a sensible basis of governance, so that the regulations are not changed willy nilly, that there in involvement of the teams in a proper process adopted, and that process is not deviated from," Howett told BBC Radio 5 Live.
"And secondly we do feel that there is a risk of involving financial forensic control in the sporting regulations and deciding a championship."
"It is not about power and FOTA running the sport, we are saying we want a proper and balanced governance process," he added.
Howett insisted that FOTA is not against reducing costs and making the sport more commercially viable for new teams.
"We welcome new teams. You have to say Brawn has done a fantastic job and without the support of McLaren and Mercedes they would not have been there.
"And there are other teams that get a lot of support from the manufacturers…and I do dispute strongly that we hold the sport to ransom. It is quite the opposite. We make huge effort to add value and to improve the total balance in the sport."