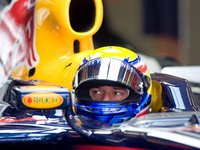 Mark Webber will start the French Grand Prix from sixth on the grid after McLaren's Heikki Kovalainen was smacked with a five-place grid penalty for impeding the Aussie.
The Red Bull ace put a disappointing Friday showing behind him as he stormed into the elite top-ten shoot out for the fifth time this year in qualifying for Sunday's French Grand Prix.
Strong underlying pace from the RB4 allied with the grid penalties imposed on Kovalainen and Hamilton leaves the 31-year-old sitting pretty on the third row of the grid, ahead of team-mate David Coulthard who also put in a sterling performance for Red Bull Racing.
"I'm pretty happy with that," professed the man from Queanbeyan. "Of course you always want a little bit more, but it could also have been worse for us, so it's okay."
"I had Jarno (Trulli) spinning in front of me on my first flying lap in Q3, so it all rested on my final one – but we got there. We've got both cars in the top ten, which is what want we wanted. Let's see what we can do from there tomorrow."
Webber encountered Kovalainen in the dying minutes of Q1. The Finn was dicing with Williams' Kazuki Nakajima at the time and the duo compromised Webber into the final chicane. However, his previous best was enough for him to move into the Q2 in thirteenth place.
David Coulthard, who is fighting to retain his seat next year and renew his contract with Red Bull, stormed into the top ten for the fourth time this season after attacking the kerbing at the final chicane with impunity.
"It's been very close with Renault and also our sister team this weekend," said the Scot, "both have been looking very quick, but in the end we have both our cars in the top ten. I have a reasonable fuel load, so I'm pretty happy with my performance today."
Red Bull Team Principal Christian Horner was delighted to see his drivers start so near to the front-end of the grid.
"A good recovery after a difficult Friday," commented the Englishman. "Both drivers are much happier with the car today."
"It was a strong performance from both sides of the garage to qualify for Q3 and, lining up in what will become seventh and eighth tomorrow [now sixth and seventh] with Lewis' penalty, we think we're reasonably placed. We're looking forward to tomorrow's race."
"It's a good result for the team to get two cars into Q3," added Renault's Fabrice Lom. "David, after his super podium in Canada, is showing that he's coming back strong, so we can now say we are properly beginning the year."
"The engines did their duty today – they completed the Canadian race, which is very hard, they did today, but they still have a long job to do tomorrow. We hope that they will have no trouble and we can relax after that!"