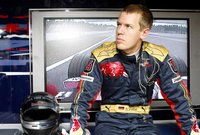 Mark Webber was caught making fun of Sebastian Vettel's nationality today, but with the German hot on the heels of his Aussie team-mate-to-be in qualifying, you have to wonder if the jibes will still be coming thick and fast after tomorrow's race.
"He's an ok sort of guy for his nationality," Webber jibed – with a wink – in an interview with ITV Sport.
The Red Bull ace holds the ever impressive Vettel in high regard and will be quietly concerned to see the German youngster get so close to him in qualifying – the duo line up in eighth and ninth place ahead of David Coulthard in the sister Red Bull.
"I was pleased to make it through to Q3 with my final lap," enthused Vettel. "The fact I know this track so well is helping me a bit, because the characteristics of this circuit are not the most suited to our package."
"It was nice to see the fans cheering on my out lap and it was only later I realised I was the only German through to Q3. We have a great grid position so now we must see what we can do tomorrow."
It wasn't quite the kind of performance that saw Webber vault up on to the front for of the grid a fortnight ago in Silverstone, and the Red Bull ace admits he has got his work cut out in the race.
"We've got a bit of work to do tomorrow I think," said the 37-year-old. "This has been one of the harder circuits for us, in terms of getting the car balance set up correctly. It normally comes together a little easier than it has done this weekend."
"Our grid position is not too bad but the gap to our opposition (Renault and Toyota) is something we cannot bridge. We know some of the car's weaknesses around here and hopefully they can be improved over the next few weeks as we cannot deal with them here."
But Red Bull Racing will nonetheless take heart from seeing both their cars firmly in the top ten after David Coulthard confirmed the underlying pace the RB4 with ninth place.
"A solid qualifying performance from both drivers to start 8th and 10th," said Red Bull Racing Team Principal Christian Horner, "We're reasonably placed for tomorrow's race and hopefully we'll get two cars to the finish in point scoring positions."
Coulthard also appears to be quicker than his lap-times suggest after a scrappy flying lap prevented him from climbing further up the classification
"I didn't manage to hook it up properly with fuel on board in Q3," rued the Scot, "I had oversteer on the prime tyres going through Turn one and then understeer on the option, so I ran off the circuit."
"It was a pretty messy lap and we should have been a little bit higher. However, as the fuel burns off tomorrow, we should pick up the pace."