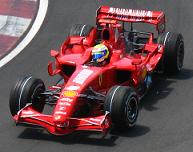 Jean Todt has said his team needs to do better they need to have both drivers on the podium at all the remaining races or they can forget about winning any titles.
"A second and thirteenth place are a meager reward for this weekend," Todt remarked. "There is a slightly bitter taste at seeing how competitive we were in the race with Kimi, as it showed yet again that starting from the front is vital. We knew this track would not suit us that well now we need to try and get both our drivers on the podium all the time to try and make up the gaps in both championships for the remaining third of the season.
"We have all that we need the team, the car, the drivers but we have not always been able to put them all together to the best effect. If we don t manage it, the championships will not be won."
The Hungarian Grand Prix was one of Ferrari s best chances this season to claw back some of the points advantage McLaren have over them thanks to a stewards decision which saw McLaren unable to pick up any constructors points over the weekend.
However, the team made an uncharacteristic error by failing to refuel Felipe Massa s car in the second qualifying session, leaving him stranded at the end of the pitlane. Massa eventually qualified in a poor 14th place. "It was a horrible race, there are not other words to describe it," Massa said.