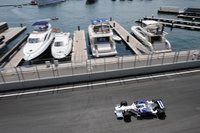 BMW Sauber could have their hands full this weekend at Valencia if the recent surge in form from Renault and Toyota is anything to go by.
Since their dazzling 1-2 victory in Canada earlier in the year, the Hinwil and Munich based outfit have struggled to keep the pressure on rivals McLaren and Ferrari.
And with mid-field teams such as Toyota and Renault coming to the fore, BMW admit they are are increasingly playing a defensive game given that the bulk of their resources are concentrated on next year's car.
"It is never nice if you have to look back," BMW Motorsport Director Mario Theissen conceded, reflecting on the threat from the mid-field.
"We are pushing ahead but what I wanted to express is that we have moved resources from this year's car to next year's car already but we are still developing this year's car and we have some developments in the pipeline for the races to come."
"We are still pushing ahead. You cannot predict any results, so we will see what we can do."
Hungary was a particularly difficult race for the team with Nick Heidfeld unable to progress beyond the first round of qualifying, and Robert Kubica struggling to match the pace of the Renault and Toyota drivers.
"Well, definitely we have looked at all the technical data after Budapest which was a race to forget for our team," confessed Theissen," and we have identified the reasons for that and certainly did everything to iron them out and I am very confident that we have got on top of that."
Despite losing touch with McLaren and Ferrari, Robert Kubica retains fourth in the drivers championship thanks to a stunning run of podiums in the first half of the season.
The Pole remains philosophical about his situation despite acknowledging that he is locked in a different battle for the remainder of the season.
"I think I was in a better position after Canada in the drivers' standings," he admits. "Unfortunately we missed some pace in the last three or four races to Ferrari and McLaren and Renault and Toyota have improved quite a lot."
"In Hockenheim my race was screwed by the safety car when I was running P4 which was a very good place for me with good pace, but in Hungary that pace was a bit less competitive than in the beginning of the season."
"In the beginning of the year it was much easier to fight against Ferrari and McLaren. Now we are sometimes against Renault and Toyota but you know, as Mario said, the team is working and we will see what will be the result in the next few races."