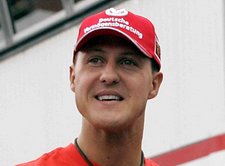 2009 drivers' title an "open question" says seven-times champ.

Michael Schumacher is looking forward to what will be a new era of Formula One next year as sweeping new regulations including mould-breaking aerodynamic changes and the use of energy recovery systems and slick tyres are introduced as a package for the first time.
What's new?
The new regulations, designed to enhance the racing spectacle and improve overtaking opportunities, will see the 2009 specification cars run with around 50% less downforce compared to 2008 with higher and shorter rear wings, and lower and wider front wings. The reintroduction of slick tyres will help compensate the loss in downforce by increasing the mechanical grip and traction in and out of corners.
Despite several teams experiencing teething problems Kinetic Energy Recovery Systems (KERS), which are designed to store and re-use energy lost as heat through braking and other episodes, will be introduced, against the wishes of some teams, giving drivers an opportunity to store energy over the course of a lap and use it as a boost to overtake.
Title up for grabs…
Joining the paddock consensus that the shake-up will help level the playing field seven-times world champion Michael Schumacher reckons that the 2009 championship is an "open question" as far as the front-runners are concerned, though he admits that the top teams will retain their edge over the rest of the field.
"It will be a completely open championship," he said. The top teams stay the top teams, but some of them may have an advantage. This is an open question for everybody."
"Not everybody, but, what I said, the top teams will remain the top teams, but we have four teams and that will be very close together than last year and you don't know what will happen in the winter. I mean, we can have some surprises."