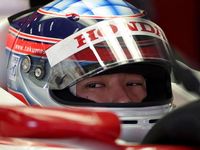 Takuma Sato has appealed to Honda to back a rescue package to secure the future of Super Aguri ahead of crucial talks with the Japanese manufacture.
Honda will decide whether to continue to support the struggling minnow team at a board meeting in Tokyo tomorrow.
A proposed buy-out by German Automotive the Weigl Group will be top on the list of discussion.
"Obviously Honda has always been central to the whole Super Aguri team," acknowledges Sato. "We have always worked so closely together and I understand that they are in a difficult position right now due to DIC letting everyone down at the last minute," he added pointing to the collapse of the deal with European automotive consultants Magma Group a fortnight ago.
"But I hope they will be able to continue the fighting spirit and give the team some more time to get the new investment in place. We have showed over the past two years how efficient we can be as a very little team and given the chance and support I believe we can be very competitive."
While Super Aguri await the outcome of the meeting in Istanbul the squad's trucks and motorhome are parked outside the circuit having been denied access into the paddock by Formula One Management (FOM).
"I was simply very surprised when I got the news from my manager," recalls Sato. "I have no idea why this has happened as I understood that no decision has been made by Honda yet and that a decision will be made in the next few days about whether we will be able to race or not.
"I heard that FOM was told that we are not racing so they wont let the trucks in but I don't understand why they have been told this when no decision has been made yet."
The Japanese driver admits Super Aguri face difficult times with a great deal of uncertainty surrounding the small team.
"[The situation is] really still uncertain. As everyone knows now, the recent DIC investment with the Magma Group failed right at the last moment, which has created a huge problem for the team. Everyone thought this deal was going to happen and I had spent a lot of time with Magma and was excited about their plans to develop the team."
"So I was very disappointed that it didn't happen and it was only with great support from Honda that we were able to race at Barcelona. It is worth mentioning that it is only just over a week since this deal collapsed, a deal everyone thought was basically done. So for Aguri-san and the rest of the SAF1 management to try to find a new solution in a week is almost impossible."