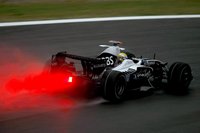 Nico Rosberg paved the way for celebrations in Williams' 500th Grand Prix tomorrow after pulling out a sensational lap in the wet to go fifth quickest in Monza.
The German youngster was one of a handful of drivers to set a quick lap at the beginning of Q2 before the conditions worsened, catching out Lewis Hamilton and Kimi Raikkonen.
Once firmly in the top ten, the Williams driver had no difficulty mastering the treacherous conditions, and he wrestled his way around the water logged track to fifth place overall, ahead of Ferrari's Felipe Massa.
"I am really pleased with the result today," said Rosberg. "It was a good qualifying session and I was consistently able to be at the front and, despite the conditions, I felt comfortable in the car."
Perhaps more importantly for the race, the Williams driver did not have to make a significant adjustment to the setup of his FW30 for the wet conditions, meaning that he will be well placed in Sunday's Italian Grand Prix should it stay dry.
"On top of this, we didn t compromise too much for qualifying and we have a good strategy plan for the race. As tomorrow goes, I would rather we didn t have as much rain as we did today as it was pretty dangerous in terms of aquaplaning."
"Ultimately, I don t mind if it is dry or wet tomorrow as long as the amount of rain is reasonable as I have the benefit of a good start position.
Williams Technical Director Sam Michael was delighted to see his man up at the sharp end of the grid: "Nico did a great job in all three qualifying sessions and is well prepared for a strong race tomorrow," he said.
"It was an exciting session, the kind of which we don t see too often and these conditions pay dividends for teams that can think on their feet."
"We now have quite a mixed grid with cars out of position from where they would normally be, so the race on Sunday is going to be interesting."