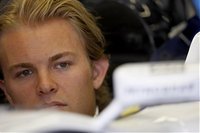 Nico Rosberg blamed Mark Webber for spinning off during practice ahead of this weekend's European Grand Prix at Valencia.
The Williams driver lost control of his car at the final corner and spun across the path of Webber into the run-off area.
Rosberg seemed to think that the Red Bull driver was to blame, despite the fact that he lost the rear end of his FW30 before the braking zone, with a sizeable gap to the Aussie.
When asked by his engineers on the team radio if he had anything to say about Webber's involvement in the spin Rosberg vented: "It was just stupid from him because he was just sitting there."
Several drivers have noted that it is difficult to tell who is peeling off into the pit-lane at the final corner and who is continuing for another lap. This confusion may have triggered Rosberg's spin.
But there are no serious fears about safety.
"I think the pit entry is quite nice, quite challenging," confessed BMW Sauber's Robert Kubica. "I think if you look into the details you clearly see who is coming in and who is not coming in because if you want to enter the pit you can brake a few metres later, so you can gain something on the braking."
"Of course there can be some misunderstanding but anyway you are not allowed to cross the white lines, so the rules are pretty clear."
Renault's Fernando Alonso concurred: "I think as Robert said it is maybe from the outside more difficult to look who is going into the pits than on the inside," the Spaniard said.
"But when a car in front of you goes into the pits you see clearly that he brakes a little bit later and when you go to the pits you brake late. Also you have to stay on the right part of the white line."
"Today, one time, I was not. It was my mistake and if you stay on the right I don't think it is a problem and it is not dangerous or anything like that."
Nico Rosberg was not the only German driver to have missed the ego-fuelled world of Formula One after a three week break.
Nick Heidfeld came all too close to careering into the back of Toyota's Jarno Trulli when the Italian appeared to back off in the run down to turn two.
The BMW driver managed to avoid a collision but was visibly annoyed, shaking his fist as he overtook the Toyota.