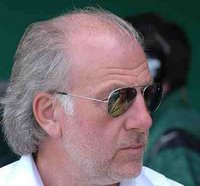 Former BAR Honda boss David Richards is believed to be the most serious contender to buy Honda Racing following the sale of the team.
Honda Racing's senior management have already alluded to several potential buyers pointing to the team's state-of-the-art facilities as something of a bargain.
The Brackley-based outfit is bank-rolled by Honda for the next three months but a buyer must be found before March if the team is to arrive on the grid for the season-opening grand prix in Melbourne.
According to The Daily Telegraph the most serious buyer is believed to be Prodrive boss David Richards.
The former BAR Honda Team Principal was poised to re-enter Formula One in 2008 as a customer of McLaren-Mercedes, but he pulled out due to the lack of clarity about the rules governing customer packages.