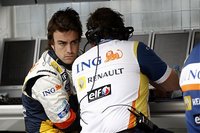 Renault's Pat Symonds has hailed Fernando Alonso's sensational fourth place in qualifying as the team's best performance of the year, the Englishman's comments suggesting that the Spaniard's fourth row grid slot is his entirely on merit.
Alonso put the frustration of his morning running well and truly behind him in qualifying after pulling out an incredible lap in the closing stages of Q3 to end up in fourth place a mere hundredth of a second shy of Kimi Raikkonen.
The result is Alonso's best qualifying performance since Barcelona when he hustled his R28 on to the front row of the grid alongside the Ferrari driver, albeit on an aggressive race strategy. This time though, Renault believe their man has enough fuel on board to fully justify his grid slot.
"What an excellent result for Fernando," enthused Pat Symonds, Renault's director of engineering, "he starts 4th on the grid with a very sensible fuel load, and I think that is our best performance of the year so far."
Alonso was delighted with his grid slot and is hoping it will pave the way for a strong points finish in Sunday's race.
"We have done very little running this weekend and there were still a lot of unknowns before qualifying," said the 26-year-old. "The car is still a bit sensitive and the track changes quickly here, and so I am very happy with my 4th place this afternoon – it's a good start to the weekend. The race is now totally open and that gives us the chance to score some big points tomorrow."
Alonso's qualifying effort was even more spectacular when put in the context of his practice woes; the Renault ace lost valuable track time on Friday as a result of beaching his R28 on the kerbing at Turn 2. And in the pre-qualifying warm up, the incidents involving the Toro Rosso drivers hampered Alonso's preparations in qualifying trim.
"After the disrupted free practice session this morning, we had not really had the chance to evaluate the ultimate performance of the car," explained Denis Chevrier, Renault's Head of Engine Track Operations. "Therefore Fernando's result this afternoon shows his ability to adapt to the car and the level of grip, and it was a superb performance."
"We know that the start here in Montreal is a critical moment and starting 4th certainly puts us in a good position for the race tomorrow."
Nelson Piquet in the sister Renault, who was likewise hampered by the lack of running in the morning warm up, struggled to find the same pace as his team mate and wound up fifteenth fastest.
"It was quite a difficult session and the car had the pace to go through to Q1, but unfortunately I was not able to go any further than Q2," commented the Brazilian. "I'm still struggling a bit with this track, which is new to me, and I haven't managed to get as much running as I would have liked. For the race tomorrow I will try and stay out of trouble, move forward and hopefully fight for some points."