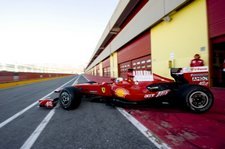 Kimi Raikkonen found himself grounded in the pit lane for three hours in Bahrain today after his Ferrari's KERS cooling system failed during testing, but that didn't stop the Finn going on to post the fastest time of the day as the teams continued to rack up the mileage in Sakhir.
Raikkonen was evaluating different set-up configurations and acclimatising the new Ferrari F60 to slick tyres when the cooling failure intervened after just 40 laps.
Although the Ferrari driver lost three hours of track time, the team were at least able to use the incident as an opportunity to practice the safety procedures to tackle a KERS related emergency.
After lunch the 29-year-old then went on to practice race simulations and lapped quickest of all with a 1m 32.102, a tenth of a second quicker than Toyota's Jarno Trulli and a further four tenths clear of Nick Heidfeld for BMW Sauber.
"Until today the car's development had gone well," Raikkonen reflected at the end of the day, "although we were mainly concentrating on its behaviour and the tyres. Today we had a problem with the cooling system of the KERS, but these things can happen during the tests. Anyway, we drove many laps."
"The whole car improved during these tests, but it's still too early to say where we are compared to our competitors. I think we have to wait until Melbourne for that. Today was the first time I could get close to a car in front of me, but I wasn't close enough to understand if the new aerodynamics really make overtaking easier."
Jarno Trulli was similarly happy with the progress made on the second day at Bahrain after notching up 149 laps.
"This has been a very good test for us," said the Italian. "I've covered well over 2000km in three days and I feel happy with the car. It seems competitive and reliable so a start like this gives us a solid base for the season ahead.
"There is still a lot of time before the first race and there is plenty of scope for teams to make big steps between now and Melbourne. So we will have to keep pushing hard to keep up the momentum in the factory and at the remaining tests. Still, so far so good."
Nick Heidfeld spent the day assessing different setup configurations for BMW Sauber's new F1.09.
"Today I drove the new BMW Sauber F1.09 in warm weather conditions for the first time, so the most important thing for me was to learn more about the general balance of the car", he commented afterwards.
"Overall it was a good day because I tried a lot of different set-up solutions. I already feel happy about how the car reacts to changes."
Today's times:
Pos Driver Team Time Laps
1. Raikkonen Ferrari (B) 1:32.102 103
2. Trulli Toyota (B) 1:32.230 149
3. Heidfeld BMW-Sauber (B) 1:32.585 104