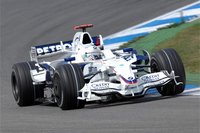 Just when it looked as though Nick Heidfeld had finally got to grips with the tyre problems that had hampered him in the early part of the season, it all came back to haunt him again in qualifying for his home Grand Prix.
Fresh from an awe-inspiring charge to second place in the rain at Silverstone and after finally getting on terms with Robert Kubica in qualifying, Nick Heidfeld arrived in Germany with high hopes of repeat success.
But the German veteran will have his work cut out in tomorrow's race after failing to progress into the top-ten shoot out and ending up twelfth overall. Tyre issues were again the cause for his disappointing day, but this time it was a graining problem rather than a tyre-warming issue that hampered the BMW Sauber ace.
"Of course position twelve is disappointing, especially since things were running well up to Q2," reflected the 31-year-old. "On my first run in Q2 I had some trouble in the last sector. It was then that the tyres started graining causing understeering. On my second run I messed it up on my own."
"I was a little late on the brakes before the hairpin, after the parabolika, the rear wheels locked massively and that was it. Now I will go fight for points in the race, that's the minimum target."
Judging by how he performed in the wet at Silverstone a fortnight ago, not to mention his breath-taking double overtake on Kimi Raikkonen and Heikki Kovalainen, a wet race might just be Heidfeld's best chance of success in front of his legions of supporters.
"The weather predictions are unstable. In our situation a wet race would certainly help," confirmed BMW Motorsport Director Mario Theissen. "From the given positions it will not be an easy race for us."