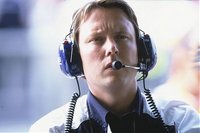 Williams Technical Director Sam Michael looks ahead to next week's European Grand Prix, and gives his take on the demands of the new Valencia street circuit.
Q. How do the team prepare the cars for a new circuit when it's such an unknown quantity?
A. Car set-up is selected based on the downforce level and the average corner speed. This is arrived at through mapping the circuit and then using that data to run it through a lap simulation programme.
Q. What preparations do the drivers undertake?
A. Drivers work with their engineers to understand what the circuit will require. They may then use the simulator to drive the circuit if the circuit map is available prior to the event.
Q. Are you given any technical information about the track by the circuit organisers in advance to assist with preparations? If so, what do you know already about either track?
A. We re only given limited data, such as a plan view circuit map. Sometimes we re given cad data so we can then create a more accurate map back at the factory. Additionally, Bridgestone are normally given access in advance in order to measure the track s abrasiveness so they can pre-select the correct tyre compound.
Q. How will the team cope with the logistics of a night race?
A. An interesting question, but one that we will only be able to answer properly after we have completed the Singapore race weekend. The most taxing aspect will be doing de-briefs at 1.30 in the morning! Perhaps staying on a European time zone will help, providing one can sleep the following morning!
Q. Will the drivers have to undergo any specific preparations for racing at night?
A. Not, not really.
Q. How hard will it be for the drivers to adapt to racing at night?
A. During the opening stages of the race weekend, they may have to drive conservatively if it is difficult to judge braking points, but it shouldn t be too much of a problem.
Q. Have you personally, or anyone within the team, visited either Valencia or Singapore to check out the circuit?
A. Our Team Manager, Tim Newton, has been to both circuits to check everything looks ok.
Source: AT&T Williams