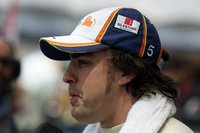 Lewis Hamilton took centre stage in Belgium for all the wrong reasons. Behind the scenes, Fernando Alonso was having the drive of his life after switching to wet tyres in the dying laps and slicing through the traffic to take fourth place.
The double world champion looks ahead to the Italian Grand Prix at Monza next week, where he reckons Renault will once again pose a threat to BMW Sauber and the front runners.

Fernando, Spa lived up to its reputation and gave us an unpredictable race, largely due to the changeable weather…
Yes, it was a very eventful race! For me, everything went smoothly until the final couple of laps. At the start of the race, the track was still quite damp in places, but I made a good start and quickly took fourth position, where I remained until the end of the race, in spite of the rain shower. We scored five points, which is a good result in terms of the championship and we were pleased to see that we were on the pace and the third strongest team in Spa.
We're now looking forward to the Italian Grand Prix in Monza another legendary and unusual circuit. Is it a track that you like?
It's an outstanding, fast circuit and drivers always like to go fast! The feeling in the car is always a bit strange for the first few laps because we run the cars with very low downforce and so it feels very light and uncertain, and that makes the chicanes quite challenging. But it's an interesting circuit, and there is always a special atmosphere so I am looking forward to it.
It will also be the last race of the European season…
Yes, after Monza we leave Europe for the final few fly-away races. It would be good to score points in Monza so we can attack the final part of the season in the best shape possible.
What areas must you concentrate on with the set-up the R28?
We drove in Monza three weeks ago and completed our programme without any problems, which means we are well prepared for this race. The aerodynamic performance will be the decisive factor in Monza and tyre evaluation will probably take up most of our technical programme on Friday.
Do you think that you can have a similar performance to Spa in Monza and aim to score points?
That's how I will be approaching this race. Our objective is clearly to finish in fourth place in the constructors' championship and I'm determined to do all I can to help the team do that. The battle is very close, as it has been since the start of the year, and each point will be important at the end of the season. We are five points behind Toyota with five races to go, so I think that is an achievable target.
Source: Renault