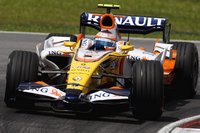 Nelson Piquet was publicly 'happy', if not secretly relieved, to have scored his first points of his Formula One career, out-racing his double world champion team-mate for the first time this year.
The Brazilian, whose run of poor form prior to the French Grand Prix provoked rumours that he could lose his seat at Renault, silenced his critics with a sterling charge into the points in Magny-Cours.
Piquet started from an impressive ninth place, his best qualifying effort of the year, and by the first corner was up to eighth where he successfully fought off a McLaren onslaught from Heikki Kovalainen and Lewis Hamilton.
Despite losing out to Kovalainen at the first round of pit-stops – the two drivers entered and left their boxes line astern only for the McLaren driver to wheeze past on the pit-exit – Piquet found himself right in the mix in the closing stages as a result of running on a longer fuel load.
And when Fernando Alonso ran wide at the Adelaide hairpin as showers hit the French track, Piquet was perfectly placed to capitalise as he lead Alonso home to Renault's first double points finish of the season.
"It's the first time that everything has gone without any problems for me," proclaimed Piquet after the race. "The car and the team's strategy worked well and I was able to score my first couple of points today. I am happy and I hope that we can continue like this for the rest of the season."
Fernando Alonso was left disappointed after he failed to turn his superb second row starting slot into a podium. The Spaniard was one of the first drivers to pit for fuel and that enabled the likes of Mark Webber and Heikki Kovalainen to leap-frog him in the pit-stop windows.
"I have to be disappointed today," bemoaned Alonso. "I am sure we could have fought for the podium, but I lost too many positions at the start, and after that I was not able to find the pace I had shown yesterday."
"The car was fast in a straight line, but I still couldn't make any progress. I scored a point, but I'm determined to do better for the British Grand Prix."
Flavio Briatore and Pat Symonds admitted that they had hoped to deliver more in front of their legions of French supporters, but they were nonetheless content with seeing both cars finish in the points.
"We had other hopes for today, but we are happy nonetheless to see our two cars finish in the points," said Briatore. "Fernando lost some positions at the start and we were not able to come back from that. Nelson had a remarkable race, very consistent and aggressive, and I am very pleased to see him score his first points today. "
Pat Symonds added: "Both cars in the points, but we still feel a little bit disappointed. We took a risky strategy with Fernando, but had to alter it after the start and so it was far from ideal."
"It's clear that we still need to find more speed in the car, but we are pleased with Nelson's first points finish."