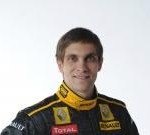 Rumours that Vitaly Petrov may lose his race seat at Renault have been strongly denied. Petrov is understood to be paying around €15 million for his seat at Renault.
Petrov's father has recently commented that his son was waiting for approval of a loan which is being secured against his house and that if the money had not been paid by the start of March, Petrov would lose his race seat.
A statement from Petrov's management has strongly denied this and has said that they story was merely a misunderstanding.
"Following recent speculation in F1-related media about the situation between the Renault F1 Team and Vitaly Petrov, the driver's management denies all rumours, which were due to a misunderstanding in an interview with the driver's father," the statement read.
"We would like to confirm that the Renault F1 Team and Vitaly Petrov's management have reached full agreement and have signed a binding contract for 2010.
"Vitaly will drive for the team in all 19 grand prix in this year's FIA Formula One World Championship. At present, both team and driver are preparing for the next official test session, which is due to take place from February 10 to 13 on the Jerez circuit. No further comment will be made."