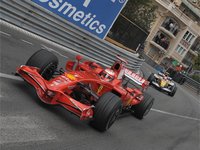 The Monaco Grand Prix stewards have decided that no action is necessary against Kimi Raikkonen following his crash with Adrian Sutil during the race. FIA representatives have interviewed the Finn and have ruled that no action needs to be taken.
With just a few minutes of the race remaining, Raikkonen lost control of his F2008 as he was coming out of the tunnel, the fastest part of the track. With the car snaking down the hill, the Finn was unable to control it and despite his best efforts to control the car, he smacked into the back of the Force India of Sutil, robbing the young driver of what looked set to be his best finish in an F1 race.
A statement from the stewards reads, "The Stewards, after hearing the explanation of both the competitors representative and the drivers, decided that the incident requires no further action."
Sutil said after the race that he was sure Raikkonen had not intentionally crashed into him. "It was a great race with an incredibly sad ending," he said. "We could have had fourth place. It is incredible bad luck that Kimi crashed into me. He obviously did not do it on purpose."
Raikkonen has apologised to Sutil over the incident.