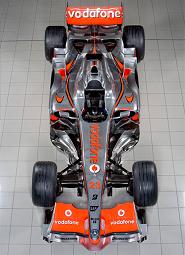 McLaren Mercedes have launched their new car, the MP4-23, today in Stuttgart, Germany. They are the second team to unveil their 2008 car.
The launch has coincided with driver Lewis Hamilton s birthday. "It s Lewis birthday today we ve gone to a lot of trouble," Ron Dennis explained. "He is 23, it is the MP4-23 and he will carry 23 on the car but that is more by accident than judgement I must say!"
Dennis went on to explain that the team have put the off-track events of 2007 behind them and are looking forward to the 2008 season. "This is a year of forward thinking for us, we are looking forward – we are not spending any time dwelling on the past. We are intent with everyone in the company in producing a competitive racing car, a car that is constantly evolving and will look radically different by the time we get to the first Grand Prix."
According to CEO Martin Whitmarsh, the MP4-23 is already faster than it s predecessor, and the team are working hard to make it even faster before the start of the new season.
"Everyone in Woking in our technology centre and Mercedes has had to work incredibly hard to produce this car, which we know is quicker than the car we raced in Brazil," Whitmarsh explained.
"We have to have two cars testing this week. It is tremendous effort to finish the second car. Between now and the start of the season we will continue to develop the package, many components will evolve and change, and a lot more will be added to the car before the start of the season.
"We are committed to winning. We know how important is it to Vodafone and Mercedes. Everyone is excited about the new driver line-up. It will be a very exciting season. We know none of our competitors have stood still and we hope to be in a position to win races."
The MP4-23 Technical Specification
Engine: –

Type: Mercedes-Benz FO 108V
Capacity: 2.4 litre
No. of cylinders: 8
Max. rpm: 19,000 (FIA regulatory limit since 2007)
Bank angle: 90O
Piston bore maximum: 98 mm (FIA regulation)
Bore spacing: 106.5 mm
Number of valves: 32
Fuel: Mobil 1 Unleaded (5.75% bio fuel)
Lubricants: Mobil 1, newly developed 2008 formula for lower friction and better wear resistance
Engine: 95kg (minimum FIA regulation weight)
Transmission: –

Gearbox Speeds: Seven forward and one reverse
Semi-automatic: Yes
Driveshafts: McLaren
Clutch: Hand-operated
Chassis: –

Chassis: McLaren moulded carbon fibre/aluminium honeycomb composite incorporating front and side impact structures. Contains integral safety fuel cell
Front Suspension: Inboard torsion bar/damper system operated by pushrod and bell crank with a double wishbone arrangement
Rear Suspension: Inboard torsion bar/damper system operated by pushrod and bell crank with a double wishbone arrangement
Suspension Dampers: Koni
Electronics: McLaren Electronic Systems control units incorporating electronics for chassis, engine and data acquisition. (McLaren Electronic Systems also supplies the electronic dash board, alternator voltage control, sensors, data analysis and telemetry systems)
Bodywork Construction: One-piece engine cover; separate sidepod covers; separate floor section, structural nose with integral front wing.
Tyres: Bridgestone Potenza
Radios: Kenwood
Race Wheels: Enkei
Batteries: GS Yuasa Corporation
Steering: McLaren power-assisted
Instruments: McLaren Electronic Systems