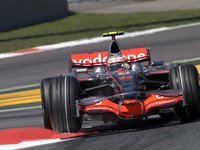 McLaren are expecting to be much stronger at Magny Cours and Silverstone than they were last year after improving the handling of the MP4-23 in high-speed corners.
The Woking-based outfit endured a trouncing by Ferrari last year with Kimi Raikkonen dominating both races, the F2007 relishing the fast sweeping corners and direction changes that characterise the circuits.
McLaren's 2007 challenger, the MP4-22 meanwhile, with its forward weight distribution and shorter wheel-base, was more attune to the low speed circuits of Monaco and Montreal and the team subsequently struggled to match the pace of their rivals on returning to Europe.
One year on and McLaren have retained their grip on the low-speed circuits with Lewis Hamilton taking victory in Monaco and underlying the pace of the MP4-23 in qualifying before his mistake in Canada. However, the British team are confident that they have also taken a significant leap forward in terms of high-speed cornering.
"Traditionally, we've always gone well at Monaco and we've recently enjoyed strong pace in Canada, and we remain encouraged by our performance," explained McLaren CEO Martin Whitmarsh. "We feel like we've made substantial improvements to the MP4-23 and, while it didn't exactly pay off in Canada, we go into France in a very positive frame of mind."
"One of the aims of our winter development programme was to improve the car's high-speed performance," explained McLaren CEO Martin Whitmarsh. "We feel we've been able to do that – and both Magny-Cours and Silverstone will give us the opportunities to demonstrate that."
It remains to be seen whether or not this will afford McLaren with an absolute advantage over Ferrari since the signs from Monaco were that the Scuderia have too made steps to redress their own deficiencies in the slow-speed corners.