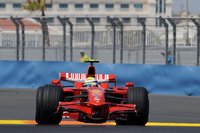 Normal service was resumed in the qualifying shoot-out for Sunday's inaugural European Grand Prix at Valencia as Ferrari's Felipe Massa inched out Lewis Hamilton and Robert Kubica for the top-spot, but not before the new sweeping Juan Carlos I Marina threw up more than its fair share of surprises admidst changeable track conditions.
Massa, who was cruelly robbed of victory at the Hungaroring before the summer break, stormed to the top of the timesheets in Q3 on his first flying lap with a stunning 1:39.371, eclipsing team-mate Kimi Raikkonen and leaving McLaren's Lewis Hamilton with everything to do on his final effort.
The British star responded majestically, showing Valencia's kerbing no mercy as he hustled his MP4-23 into provisional pole, but it wasn't enough to stop Massa's scintillating charge, the Brazilian electing to make his final assault on the super-soft tyres, a move which carried him to his twelfth career pole and the third of his career.
"For sure it is always nice to be on the top after such a bad result, especially how it happened," said Massa pointing to his disappointment in Hungary. "To have a problem with three laps to go with it completely in my pocket… After such a difficult race it's very nice to be here, after the last problem being at the top."
"It is nice to start from pole position and you have more possibilities, so let's try to do a great race tomorrow."
Lewis Hamilton conceded afterwards that Massa had literally destroyed the opposition: "As you see we just watched Felipe's qualifying lap and in sector one he destroyed everyone, so they will be hard to beat tomorrow, but we will push hard to do so."
But he added: "It was quite straightforward for me. We knew we had a good car through testing and going into Q1 and Q2 it was just going through, no problem."
"The car was great, and I went out and I stayed on option tyres for both of Q3's timed laps. The first one wasn't a great lap, I lost about a second compared to the second. The second one was quite good. For sure there is some time there, (but) it is a solid position to be in for tomorrow."
Kimi Raikkonen was unable to provide an answer to his team-mate's searing pace and wound up fourth quickest, behind BMW Sauber's Robert Kubica who was relishing every inch of the 5.4km street circuit. Heikki Kovalainen, faced with a similar dilemma as Raikkonen lined up alongside his fellow countryman in fifth.
But the star of the session was undoubtedly Toro Rosso's Sebastian Vettel. The German youngster, boosted by the superiority of his Ferrari V8 around the high-speed track, was consistently quick throughout all three sessions despite changeable track conditions. The Toro Rosso driver lines up in sixth place ahead of Jarno Trulli, Nick Heidfeld, Nico Rosberg.
Sebastien Bourdais in the sister STR confirmed the underlying pace of the Faenza-based outfit, not to mention the horsepower of his Ferrari V8 056. Mark Webber reckons Vettel and Bourdais were carrying some four tenths of a second worth of horsepower advantage around the street track and cites this as the chief reason behind Red Bull Racing's low key session.
All the big names made it through to the final qualifying shoot-out, but only just. Heavy overnight showers which washed off most of Friday's rubber, coupled with the brand new asphalt, not to mention the odd spot of rain here and there, turned the 5.4km street circuit into something of a lottery as the drivers battled to get their tyres up to temperature.
Jenson Button and David Coulthard were notable casualties in the opening knock-out session as a result, and home hero Fernando Alonso fell victim to the chop in Q2, though this was a much to do with over-cooking it on the exit of the swing bridge as it was a problem with tyre-warming.
Both the opening qualifying through up unusual classification with Jarno Trulli, Nico Rosberg, Fernando Alonso and Sebastian Vettel all having their moments at the limelight.
But as the track settled down, along with the harbour climate, the usual names unleashed their full speed with McLaren and Ferrari showing that it is business as usual this weekend in Valencia. And all the signs are that Ferrari have come through the Summer development window with something of an edge over their Woking rivals.