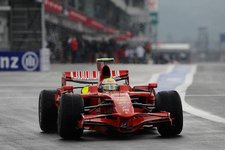 Bourdais slammed with 25-second penalty; Massa promoted to seventh, closes gap to Lewis.

Felipe Massa has been promoted to seventh place in Sunday's Japanese Grand Prix following stewards' decision to reprimand Sebastien Bourdais with a 25-second penalty for his tangle with the Brazilian.
The penalty drops Bourdais from sixth to tenth. Crucially though it promotes Massa to seventh, thereby reducing the Brazilian's points deficit to championship leader Lewis Hamilton to five. Mark Webber picks up a point for eighth place.
Bourdais collided with Massa on Lap 50 when he rejoined the circuit after his second pitstop just as Massa turned into the first corner.
The two drivers made contact and Bourdais sent Massa into a spin. The Ferrari driver went on to salvage eighth place.
"There s little to say," said Massa dismissing the incident. "I had already entered the turn and he hit me from behind, spinning me round."
However Bourdais was left fuming, adamant that Massa was in the wrong. He told autosport.com:
"For me it's very clear. Yes, I exit the pits, yes I'm supposed to be careful and I was," he said. "I stayed inside and I didn't push him out, I didn't overshoot the corner.
"I did everything I could not to run into him and he just squeezed and turned and behaved like I didn't exist, like I wasn't there. What am I supposed to do?
"I've been in this position many, many times and I never had any incidents. It's just a little bit of respect, you give each other room and then everything goes right, but if you don't for sure it's going to be an incident."
"I've been in this position many times, especially the position he is in fighting for championships and you just don't take unnecessary risks like this," said Bourdais.
"You've got everything to lose and nothing to gain. He was going to pit in three laps, I was ahead of him and he was going to finish behind us anyway. Why would you even think about doing something like that? I don't understand."