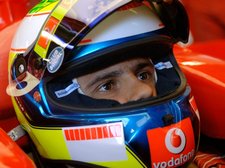 Felipe Massa has given the new Ferrari F60 a firm seal of approval after racking up over 2,000km of testing in Mugello this week, despite poor conditions and showers.
Despite rumours that Ferrari have fallen behind rivals McLaren and BMW Sauber in the arms race to develop their car, Massa pointed to the lack of mechanical gremlins that Ferrari have enjoyed during testing in comparison to other teams as a strong indicator of form ahead of the season-opening Australian Grand Prix in March.
"We've done around 1,700 kms in four days, practically without problems, while most of the times in the past after 250 kms something would come up," Massa confirmed to Italian newspaper 'Gazzeta dello Sport'.
"The car threw a tantrum practically one lap from the end, but it gets thumbs-up without a doubt. It was a hydraulic problem, because the differential broke. It's certainly better that than some other important component, like for example the KERS or the engine."