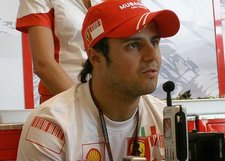 Felipe Massa has already started thinking about racing again, after making progress in his recovery, his personal doctor has proclaimed.
Dino Altman told journalists in front of the AEK hospital in Budapest on Thursday that the Brazilian's condition was improving all of the time, so much so that he would no longer require any special treatments to aid his recovery.
"No problem with his eyes, as I've told you before, it's okay." Altman reported.
"He is eating normal food. He ate chicken, today in the morning he had a normal breakfast, some yogurt with nutritional complements, bread, cheese, tomato, and he also had a banana."
It's the only thing he is thinking about, it's his fixed idea. He has no fears at all. He thinks he would be able to race in Valencia."
Altman also revealed Massa's initial reaction to the news that his former team mate, Michael Schumacher would replace the Ferrari driver for the European Grand Prix in Valencia.
"He was joking with his friends and his brother," Altman was quoted as saying. "He was telling us that he heard about the Schumacher news, and he told us: 'Let's see if I let him drive the car, because I won't give up.'"
Altman also said that Massa would soon be released from hospital, but whether he would be taken to Monaco or return to Brazil was still undecided.