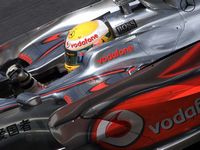 Lewis Hamilton is hoping for a better qualifying result at next weekend s Turkish Grand Prix in Istanbul after a disappointing assault on the timing sheet in Spain where he wound up behind both Ferraris as well Robert Kubica and Fernando Alonso.
The British ace was "shocked" to have wound up fifth quickest in Spain despite carrying more fuel than his rivals. Qualifying at the sharp-end of the grid in Istanbul is therefore top on his to-do list.
"Qualifying was surprising close in Spain, both at the front of the grid and in the midfield," reflected the 23-year-old.
"Whilst there are clear chances to overtake at the Istanbul Speed Park, it is going to be vital to qualify well."
Hamilton flies out to Istanbul still very much in contention for the championship after a sterling podium drive in Barcelona kept him within nine points of championship leader Kimi Raikkonen.
However, one mistake around the demanding 5.3km Herman Tilke designed circuit could see Hamilton fall out of contention. The Stevenage ace relishes the circuit and was in good shape for a podium finish last year only for a tyre failure to demote him to fifth.
"It is a fantastic circuit. It is quite demanding, particularly through turn eight, but it provides a good challenge. I always look forward to the race and hope to improve on last year s result."
"I also hope to have Heikki alongside me for the race so we can get a good joint result for the team, I know he has a final check at the track on Thursday so we will have to wait and see until then."