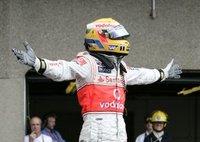 Such was Lewis Hamilton's speed and aggression behind the wheel of his McLaren that not even a fragmenting track could stop him from sealing pole position in Montreal.
The McLaren driver had to contend, as did his rivals, with deteriorating track conditions on Saturday which became notably worse towards the end of Q2. The hairpin leading on to the long back-straight was one of the hardest hit corners and several drivers were caught out by the fragmenting surface there including Ferrari's Kimi Raikkonen and Felipe Massa.
While his closest rivals struggled to hook up a decent third sector time as a result of the marbles that littered the tight right-hander, Lewis Hamilton managed to limit the damage in spectacular style. On his final flying lap the Briton locked up his right front tyre badly under braking but somehow managed to keep his MP4-23 pointing in the right direction as he wrestled it through the right-hander, launching it out onto the all-crucial 300km/h straight.
The result was a stunning pole lap some six tenths of a second faster than Robert Kubica and almost a second quicker than Kimi Raikkonen. Hamilton was delighted with the result which sees him start the Canadian Grand Prix from pole for the second year in a row.
"To achieve pole position here in Canada at the same place where I took my first Formula 1 pole just one year ago is really awesome," exulted Hamilton afterwards. "Our car feels good and we're really on top of our game – even though the track started breaking up in places."
"On my penultimate lap in the third part of qualifying I lost a bit of time when I ran wide and I knew that Robert and Kimi were chasing me so I was aware I had to give it my all. On my final lap, I found more than six tenths which was enough for pole position."
Norbert Haug, vice president of Mercedes-Benz, was impressed with Hamilton's qualifying assault on the Circuit Gilles Villeneuve.
"It was a thrilling qualifying session and Lewis's final lap was just fantastic," the German wallowed after the session was over. "He was fastest in all three parts of qualifying and achieved his eighth pole position in his 24th Grand Prix."
While Heikki Kovalainen managed to keep his head through the tortuous Turn 10, the Finn's hot laps were severely compromised by traffic and he eventually wound up in sixth place behind Ferrari's Felipe Massa.
"We worked hard to improve the car all weekend so my grid position is mainly due to the fact that I couldn't find a clear lap in the final session," explained the 26-year-old. "The traffic meant I couldn't get into a proper rhythm so I'm a bit annoyed with myself. But what can I do? I just have to drive a better race tomorrow."
McLaren Team Principal Ron Dennis was impressed with the way that both his drivers battled against the changing track conditions and expressed confidence in their chosen race strategies.
"Both days of practice have been trouble-free for us. But along with everybody else, the biggest challenge has been to cope with the ever-evolving circuit conditions."
"During qualifying, the track surface started to break up at Turn 10 – which presented an additional problem for the drivers. Despite these issues, Lewis took his second pole position of the season and Heikki qualified well even though he had difficulty finding a traffic-free lap in the final session.
"We're confident that we've chosen a good strategy and we're looking forward to a strong and straightforward race tomorrow."