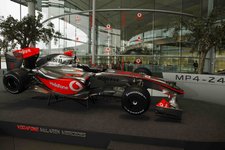 McLaren launch MP4-24;
Ron Dennis steps down as Team Principal
McLaren Mercedes unveiled their 2009 challenger, the MP4-24, in Woking today, with reigning world champion Lewis Hamilton describing the new car as "stunning".
It was a significant moment for Ron Dennis who announced that he will step down from his position as Team Principal before the start of the new season, handing team responsibilities to Martin Whitmarsh.
Dennis insisted however that he was not retiring and vowed to work even harder in his strategic role as Executive Chairman.
"I stress nothing to get too excited about but it is absolute time for Martin to take over as team principal," Dennis said. "As from March 1 he will adopt that responsibility. I will still go to races, not all of them, because I am passionate."
"I intend to work harder and will take on greater responsibility in the group. I will be full executive chairman. It is time and I have to say it is absolutely 100 percent my decision. It is what I want to do, but I do intend to work much harder.
"Don't see it as some sort of retirement, I want to work harder in other areas and having to plan those tasks around the GP calendar is disruptive to the process. It is a job that Martin will embrace and enjoy.
"It is a job over the years we have shared anyway, but it will be his decision to influence things at a grand prix circuit."
MP4-24 Launch
The new car, which McLaren hope will catapult them to glory in this year's Formula One World Championship, featured heavily revised bodywork – including re-sculpted front and rear wings, slick tyres and a kinetic energy recovery system (KERS) – in response to a raft of regulation changes shaping the sport ahead of the new season.
The team has already completed two MP4-24 chassis and begins publicly testing at the Autodromo do Algarve circuit in Portugal on Monday. Test driver Pedro de la Rosa will conduct the first two days before Lewis (Wednesday) and Heikki (Thursday) sample the car.
Defending world champion Lewis Hamilton described the new car as "absolutely stunning."
"The arrival of a new car is always an emotional moment for any racing driver – and the unveiling of MP4-24 is even more special for me, not only because the car looks absolutely stunning but also because it carries the world champion s number one," he said.
"I believe this year s world championship is open, given the new rule changes and that s a great prospect for every Formula 1 fan. Personally, I m hoping for another successful season and the chance to once again fight for the title – until the final race if necessary, but preferably before!"
Heikki Kovalainen, who will be hoping to close the gap to Lewis Hamilton in 2009, was also optimistic ahead of the new season.
"I m fortunate enough to have watched behind the scenes as this year s car has taken shape and I ve been amazed at just how hard everybody in Woking. Brixworth and Stuttgart has worked."
"Over the winter, I also feel like I ve had the opportunity to prepare fully for the year ahead: I ve been busy training and working with my engineers to ensure we start the season as strongly as possible. With so many new rules, adapting quickly will be essential and I feel more prepared than ever for the new season."