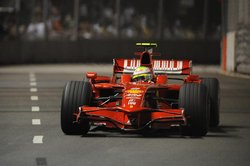 Massa sees the light as championship battle heats up in Singapore
Felipe Massa can smell opportunity in Singapore having seen Lewis Hamilton's appeal hearing thrown out by the FIA.
Conspiracists might put the Paris no-show down to entertainment-mongering: a single point difference between the two championship protagonists makes for a mouth-watering backdrop to the historic inaugural Singapore Grand Prix under the night sky.
Whatever, Massa has no qualms about stealing the championship initiative on the back of such politicising.
"If I win by one point, I am the winner. It doesn't change anything," said the Brazilian, who, perhaps not surprisingly, fully backs the FIA's decision to reject Hamilton's appeal on the grounds of it being "inadmissible".
"Looking at the rules, it was going to be very difficult for them. The result was pretty fair," Massa added.
'Move on' was the self-adopted advice from Lewis Hamilton: "I am not focusing on the past and I am just moving forward and concentrating on the next race," he said.
"It didn't really disrupt my week to be honest because I went straight to the airport and got on the plane. We went there and gave it our best shot, perhaps it wasn't the best result but we move on."
"It is all in the past now and we must focus on the next four races. We approach them with the same confidence as we have the last ones."
"We have come here no different to how we went to Monza and we are just going to try and do a good job this weekend. We are all in the unknown but we have come here to try and score as many points as we can."
He has good grounds to be confident. Massa was off the pace in Spa-Francorchamps and Monza, and was lucky to walk into victory in Belgium with the leaders Kimi Raikkonen and Lewis Hamilton effectively taking themselves out of the running with their scrapping.
And if rain should hit Marina Bay this weekend, as it is expected to do and with some vigour it will be advantage Hamilton and McLaren around the bumpy 23-corner street track.
"I come away from quite an exciting race in Monza," added Hamilton. "I had a great flight out here and I feel great for the weekend. We have got some good upgrades for the car. It is going to be an interesting one for all of us."
Should the wet-stuff hold off, then Massa could be in with a shout. Ferrari have tended to struggled to get heat into their tyres this season, but with Bridgestone bringing the softer compounds to the Malayan peninsula, as they did in Valencia – where Massa dominated – the gap between McLaren and Ferrari could be considerably closer.
"From what we saw today, and taking into account the usual unknowns on a Friday, we should be competitive compared to our closest rivals," said Ferrari Team Principal Stefano Domenicali after seeing Massa go third quickest in the Friday warm-up.
Massa added: "The car is handling well, especially on the harder tyres, but we know track conditions will improve so it is too early to draw conclusions."
"Visibility is not a problem. The entry and exit to the pit lane could turn out to be a bit critical in the race. In general, the track surface has a lot of grip but in some points there are some bumps that are a bit of a pain."
"I think we will be competitive: whether we will be more or less so than our rivals, I cannot yet say. It is a street circuit which means you have to concentrate all the time as there is no margin for error."
Overtaking at the new 5.067km street track is expected to be difficult, as it was in Valencia. Qualifying will take place at 2200 local time and 1500 GMT.