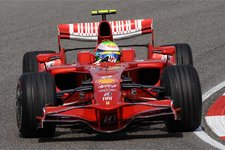 Massa delights home crowd with Pole as Hamilton feels the pressure.
Championship hopeful and local favourite Felipe Massa obliterated the opposition in Brazil to start Sunday's decisive grand prix in pole, with chief title rival Lewis Hamilton under pressure in fourth.
The Brazilian, who must win Sunday's race or finish second to be in with a shout of title glory, set a searing pace around the bumpy Interlagos circuit to clinch his third pole position at the Sau Paulo arena, much to the delight of his legions of supporters who turned out in their droves to will him on.
Any advantage that Lewis Hamilton appeared to have in the opening knock-out sessions quickly disappeared in the shoot-out and he found himself languishing in sixth place after a scrappy first flying lap.
The Briton improved to fourth with his second attempt, but crucially will start Sunday's race behind both Ferraris.
Add to that a sensational lap from Toyota's Jarno Trulli, which saw the Italian vault up onto the front row alongside Massa splitting the Ferraris, and Hamilton finds himself tantalisingly close to the wrong side of fifth place: the position he must finish in at the very least to become world champion.
Hamilton's team mate Heikki Kovalainen will line up behind him though providing a crucial startline buffer between himself and nemesis Fernando Alonso.
Lewis admits his fourth place is not ideal, but he reckons that Ferrari have elected to run Massa on a lighter fuel load which should play into his hands over the course of the race.
"It would be nice to be further up, but with the strategy we have it's quite good," Hamilton told reporters after qualifying.
"It's going to be a tough race for sure," he added. "Ferrari have probably gone on a different strategy, which could be good or bad. But we're in a great position."
Hamilton also wished his championship protagonist well in Sunday's race, and conceded that he is in the best possible position for the start.
"(Pole Position) is where he needs to be," he said. "All the best to him. I'm just focussing on my problem, I don't need to do anything specific, just bring the car home."
Massa meanwhile was delighted to have taken his third pole position at Interlagos and was quick to thank his fans who turned out in their droves to see him clinch pole position.
"It's so nice to be here and taking my third pole in a row in front of these fantastic people, who are one hundred per cent emotional about their motor racing," he enthused.
"It's great for us to come here and see so many people which love what we're doing. It's difficult to describe how I'm feeling in Brazil, in front of my own people. I'm also racing for a fantastic team, very emotional, which works very hard. And having my family here and friends, that's very important too."
Massa must win the race and hope that Hamilton finishes fifth or worst on Sunday to be crowned champion. The Brazilian youngster admits it will be a tough race.
"I think (it will be) a tough fight between all three drivers. We have 73 laps tomorrow which is a pretty long, but it is always better to start from the front."
"We have proved we have a good car over (the course of) Friday and Saturday. We were very competitive also in Q3. It's always good to be in front, I will try my best to win the race: that's the most important thing."
Massa will take heart from Ferrari's underlying pace though which saw him take pole by over half a second to Toyota's Jarno Trulli.
"I would say I was very competitive and very quick all around the track, but in Q2 I made a small mistake in Turn 4 where I went off the kerb and maybe lost a couple of tenths."
"So it was already not a good lap. But I managed to pull everything together in Q3 where we showed our great performance."