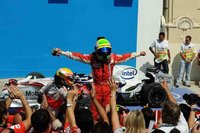 I can do it on my on terms, affirms the Brazilian ace
Felipe Massa insists he can realise his dream of winning the world championship on merit, and is not expecting support from Ferrari team-mate Kimi Raikkonen.
The Brazilian failed to capitalise on Lewis Hamilton's lowly grid slot in Sunday's Italian grand prix and finished the race only one place ahead of his title rival.
Ferrari team principal Stefano Domenicali admitted the race was something of a missed opportunity before suggesting that Ferrari would expect Kimi Raikkonen to lend his support to Massa, just as the Brazilian at his home race and season finale last year.
"Considering that Lewis was 15th on the grid, it would have been much better for us to gain more points than only one, but that's the reality," he said.
"We take away one more point from the leadership of the Drivers' championship but for sure, considering the situation, we could have done better."
But the Italian conceded: "It could have also been worse. If we had been unable to use the tyres in the better way, maybe there were other drivers who could have been able to pass us."
Domenicali added that Ferrari may ask Kimi Raikkonen to help Massa in his championship endeavor now that the Finn has effectively fallen out of the championship race.
"I've always said that our main interest is the team," he said. "Of course, that's the most important thing and the drivers know it."
"From now up to the end of the season, in the way that it's possible to do, of course Kimi will do his best to be as aggressive as possible but also consider the fact that Felipe is much closer to the championship leader, Lewis."
However, Massa is adamant that it will not come to this, nor that he would need the help of his Finn.
"Whether I do it or not is completely separate to what Kimi or anyone else does," Massa told German newspaper Welt am Sonntag.
"I am sitting in the car, I am the one who wins races or makes mistakes. It is my game," he added.
Despite missing his opportunity in Monza, Massa's one point deficit to Hamilton looks set to remain with the general paddock consensus suggesting that the Briton will be hard-pressed to win his appeal hearing in Paris for his penalty in the Belgium Grand Prix a fortnight ago.
That will give the Ferrari driver a perfect sling shot into the remaining races.