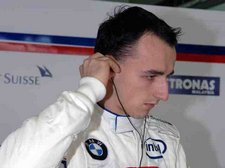 Robert Kubica may have established himself as a grand prix winner and future world champion, but 2008 is still proving a bitter pill to swallow for the Polish star after BMW's second-half slump…
While the focus for BMW Sauber is fixed firmly on the 2009 season in which sweeping new regulations could provide a winning context for the Hinwil and Munich based outfit Robert Kubica, who at one point found himself leading the championship in 2008, is still at odds with the way the team "let it go" in the second half of the season.
The Pole found himself unexpectedly leading the world championship at the mid-point of the season with a plethora of podiums to his name and a stunning charge to victory in Canada.
But despite continuing to challenge the front-runners in the second half of the season, BMW Sauber failed to provide the machinery needed to steal race wins from Ferrari and McLaren.
Nonetheless, Kubica still managed to stay in contention for the tile right up until the penultimate grand prix in China where a torrid qualifying assault pulled the trigger on his championship and left him to linger home to sixth place. He eventually finished fourth in the championship race after failing to finish in the points at the season finale in Brazil.
Kubica made no attempt to hide his frustration with BMW Sauber's objectives in the latter half of the season, particularly the team's efforts to counter Nick Heidfeld's tyre problems in qualifying, as well as their broader focus on developing next year's car.
With winter testing for the 2009 season well underway and the launch of BMW's F1.09 scheduled for 20 January in Valencia, Kubica has renewed his criticism citing a major mismatch between his and the team's goals in 2009.
"It is no secret where we let it go," the 23-year-old told Dutch website Formule 1 Race Report. "We didn't develop the car as well as expected. Even Toro Rosso came close to us in the last races.
"It was not to do with money or manpower. Renault is not the richest team, yet it became a two-time world champion.
"This year we gave the maximum and had such a beautiful chance, but we let it go. In the last two or three months, I had the feeling that the team and I were no longer pursuing the same goal."