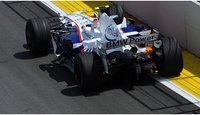 BMW Sauber's Robert Kubica charged to the top of the timing sheets in the final practice session at Valencia, despite battling with what he felt was a deteriorating track surface.
The Polish driver vaulted to the top-spot with seconds to spare with a 1:38.754, pipping a whole hoard of likely 'rabbits' – drivers attempting to escape elimination in Q1 by running a lighter fuel load – including Nico Rosberg, Sebastien Bourdais and Kazuki Nakajima in second, third and fourth.
Felipe Massa was fifth fastest ahead of Friday's star man Sebastian Vettel having bolted on the softer tyres in the closing stages, while Lewis Hamilton was looking solid in seventh place on the harder Bridgestone compounds.
A mere half a second separated the top ten which was rounded out by Nick Heidfeld, David Coulthard and Nelson Piquet.
The final practice session took place in dry conditions, but heavy overnight showers washed the harbour track clean of the rubber laid down in Friday practice, leaving the drivers with it all to do again ahead of qualifying.
Much lower track and ambient temperatures also placed greater onus on tyre management ahead of the knock-out sessions, and Renault were once again seen setting a very slow pace to gently rubber in their Bridgestones before Fernando Alonso's main assault on the timings.