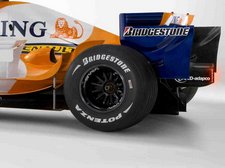 ING has salvaged a deal with the Turkish Grand Prix after announcing that it will end all its sponsorship in Formula One at the end of this year.
The Dutch bank, which entered the sport as Renault's title sponsor in 2007, has been hit hard by the credit crunch and announced earlier this week that it will end its relationship with Renault, as well as its advertising deals with the Australian, Belgian, Hungarian and Turkish Grand Prix, at the end of the forthcoming 2009 season.
However despite including the Turkish Grand Prix as one of the sponsorship deals it would opt out of, ING have now confirmed they have salvaged a deal with the circuit organisers to remain as chief sponsor of the event, which will take place from 5-7 June in Istanbul.
Meanwhile, ING Malaysia has fully supported the bank's decision to end its contract with Renault given the current economic pressures.
"Over the past two years, ING Group has successfully achieved its objectives for the F1 sponsorship," branding and corporate communications head Geraldine Wong told Malaysian publication Sun2Surf.
"Raising its overall global brand awareness by 16 per cent and driving several billion Euros in new assets to the group."
"To-date, 134 of these business activations in 36 countries have driven new sales and revenues to the group. The goal for 2009 is to get the most out of the assets that we have [and] tap the experience of the F1 global central team and other business units to develop the most effective F1-related sales and marketing campaigns.
"Just because the sponsorship will come to its natural end this year, does not mean that we're putting the brakes on activation."