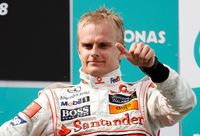 Heikki Kovalainen is "fighting fit" for next weekend s Turkish Grand Prix and will race in the spare chassis that McLaren took to Spain.
There was some doubt whether the Finn would race at Istanbul following his horrific 130km/h mile crash at Barcelona a week ago.
However McLaren CEO Martin Whitmarsh is confident that the 26-year-old, who undergoes precautionary examinations this week, will be fit to race.
"Heikki is fighting fit," he confirmed. "Our team doctor has kept an eye on him during the week both in Spain and then at the Kuortane Sports Institute in Finland and there has been no development of any secondary symptoms so everything is positive on that front."
"We have a race driver who is naturally impatient to get back out there and this is the aim of the team. That said, we will fully respect the decision of the medical professionals, they are the specialists."
Kovalainen will race in an updated version of the spare car that McLaren took to Spain due to the logistical inconvenience of shipping parts to Turkey which is neither a traditional European race nor a fly-way event.
The Finn's written-off MP4-23 is undergoing forensic scrutiny back at the McLaren base in Woking to better understand the cause of the accident.
"Heikki s car from Spain was transferred back to the McLaren Technology Centre arriving lunchtime on the Monday following the race," Whitmarsh explains.
"The spare chassis that was in Spain is in the process of being built into a complete MP4-23, which Heikki will race, all being well, in Turkey. Some of this work took place in Spain, some back at base and some more in Turkey.
"Istanbul is a very challenging location for the team, as it is not a traditional European race or a flyaway. The majority of the equipment travels to the event by ship, taking much longer to get there and, naturally, to come back.
"The race team equipment, including the cars departed for Turkey directly from Spain, this includes the spare chassis just mentioned. A new spare chassis will be sent to Turkey directly from the McLaren Technology Centre."
Kovalainen meanwhile is desperate to race again and is unfazed by his accident:
"I want to get back racing as soon as possible, since the accident at Barcelona it has been my only focus."
"Everyone involved in the sport, the FIA in particular, is always working on improving safety for the drivers, but Formula 1 is a risky business. You know that as a driver, but you don t think about it. If you worry about things like that, you lose focus; I guess it is just not in my psyche."