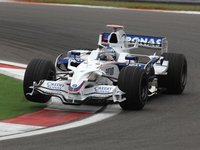 Nick Heidfeld is happy with his performance at Silverstone a solid drive with some spectacular overtaking moves saw the BMW driver score his third podium of the season, a result which sees Heidfeld move to just 10 points behind his team-mate.
"It was a good race. I am happy with second place because today it was the best I could achieve," Heidfeld commented. "Qualifying went well and in the race we did everything right. Obviously it was crucial to make the right tyre decisions.
"At the first stop we were wondering if we should stay with the used set of inters, but luckily we then decided on new tyres. We were expecting a small shower but when I drove down Hanger Straight and saw a black wall in front of me. I thought I should expect more than that.
"The most difficult moments in the race were when cars were overtaking me who had been lapped, but were just on better tyres for the conditions at that time. There was so much water and I couldn't see where it was lying. Once before Abbey I almost spun, but just managed to keep the car on the track."
Heidfeld s team-mate Robert Kubica did not have such a good race and in treacherous conditions, spun on lap 40 and had to retire from the race.
"I was already aquaplaning for many laps and unfortunately in a straight line I just lost the car completely and went off," Kubica said. "Here in Silverstone it was a crazy race in difficult conditions. Everything was running pretty well as I was having quite a good race and gaining positions.
"But when it rained and there was a lot of water on the track I was just struggling. I couldn't keep the car in a straight line, was losing power, the rear wheels were losing contact with the tarmac and that was it."