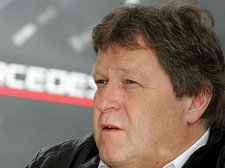 Mercedes-Benz boss Norbert Haug has conceded that it could take a couple of races before McLaren can compete for race wins.
The Woking squad unearthed problems with their new car during last week's test in Barcelona after running a new aero package.
Lewis Hamilton and Heikki Kovalainen both struggled with the handling of the MP4-24 and languished at the bottom of the timesheets over two seconds off the pace.
The team are now working flat out to re-design their car ahead of the season-opening Australian Grand Prix in two weeks time, but Haug has admitted that it could take a couple of races before they recover.
"We are definitely not where we want to be. We will continue our test programme next week at Jerez for another four days. But it will take time to improve," conceded Haug.
"We are working hard to improve. However, it might take us a few races to significantly improve. We still have a lot of work ahead of us to improve the technical package."
"Obviously, there is a lack of downforce and we are currently working hard to solve this problem. Basically, the car feels good – that is what our drivers say. However, we are currently definitely not fast enough, not competitive enough to aim for victories."
The problems come as a huge blow to Lewis Hamilton who begins his title defence in Melbourne.
The rest of the paddock will also be keeping a watchful eye on McLaren's progress. Mercedes-Benz now supply engines to two other teams, Force India and the impressive Brawn GP team.
"Brawn GP has done a remarkable job and has been fastest in Barcelona for one lap as well as over a race distance," commented Haug.
"Our performance is not yet where it should be, but we will work very hard to improve it and get back to our standards," he added.
While Haug acknowledges that McLaren and Mercedes-Benz are 'in it together', his opposite number at Woking, team principal Martin Whitmarsh, accepts that aerodynamic problems lie at the heart of the MP4-24's uncompetitiveness.
"Our Mercedes-Benz engine is strong – we saw that last year – so MP4-24's performance shortfall is clearly chassis-centric," said Whitmarsh.
"Inevitably, in 21st-century Formula 1, it is a car's aero aspect that confers the greatest pluses and minuses to its overall performance package, and that would appear to be the case with MP4-24. But Formula 1 engineers can do great things when the pressure is on."