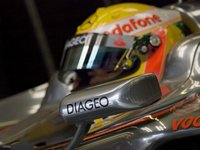 Lewis Hamilton is determined to get his championship back on the rails and put his shocking French Grand Prix behind him.
The British ace failed to bring home points for the second race in succession after a drive through penalty allied with his grid penalty for his pit-lane infringement in Canada effectively wrote off his French Grand Prix. He drops to fourth in the championship, ten points adrift of newly crowned championship leader Felipe Massa.
Hamilton's latest run-in with the stewards came over an incident on the opening lap when he passed Sebastian Vettel on the entry to the Nurburgring corner only to lose control of his McLaren and run across the asphalt. He was deemed to have gained an advantage over Vettel and was consequently dealt a drive through penalty.
Hamilton believes he overtook Vettel fairly and insists he had to cut the chicane to avoid a collision: "My drive-through penalty was an extremely close call," he explained afterwards.
"I felt I'd got past Vettel fairly and was ahead going into the corner, but I was on the outside and couldn't turn-in in case we both crashed, then I lost the back-end and drove over the kerb."
Despite failing to pick up points for the second consecutive race and losing ground in the championship race, Hamilton is adamant that he can turn things around.
"I've been out of the points for three races now – but there are still ten to go. Kimi [Raikkonen] came from behind to win last year's championship, so there's no reason to be disheartened. I'm ten points behind, but I'm determined to bounce back at Silverstone in front of my home crowd."
McLaren's senior management are similarly eager to put France behind them and are confident their drivers have the underlying pace to re-take the initiative in the championship at Silverstone.
"A challenging weekend for us," reflected McLaren team principal Ron Dennis. "Lewis' race was severely hampered by his drive-through penalty. Now, though, we must draw a line under this weekend and look ahead. We've got a competitive car and two excellent drivers, and as such we're in great shape."
"We need to focus on the British Grand Prix, and on getting the best results we possibly can at Silverstone, where we feel confident we'll once again be able to challenge at the front."
McLaren-Mercedes Vice President Norbert Haug added: "Our pace wasn't too bad. Without his drive-through penalty, third place would definitely have been possible for Lewis despite starting 13th."
"We all now concentrate on the first of two consecutive 'home' grands prix at Silverstone. Lewis' gap to the top is ten points, and that is still not too big a gap."