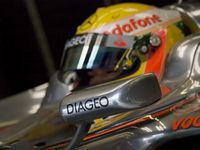 Lewis Hamilton has said he will not strike over the increase in superlicense costs.
Many in the paddock are unhappy at the massive hike in the mandatory superlicense fees this season. The increasing unrest has caused rumours that drivers in the sport will boycott the British Grand Prix unless the FIA reduces the superlicense fees.
However Hamilton, who has previously voiced his concerns over the price increase, has issued a statement saying that if a strike does happen – which he believes is highly unlikely – he will not take part.
"In the FIA press conference at Magny-Cours on Thursday June 19, I expressed by support for whatever decisions the drivers may take on the basis that my support could be critical," Hamilton s statement read. "I am not involved in any strike talks that is not my position.
"I am here to race, to do my job for the team, for myself, and for the fans of Formula 1.
"To put my comment in the correct perspective, another driver said, I think it will be difficult to get all the drivers to have the same idea, but we are trying to convince the FIA to reduce the cost.
"I then responded, I have always said that they have my support and it is something I agree with as well.
"In any case, I don t believe for one minute that the drivers will take such drastic measures. We have the British Grand Prix in a couple of week s time and other Grands Prix to follow and I am certainly not planning on missing any of them."