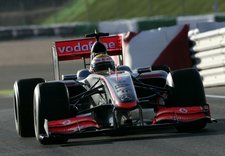 World champion Lewis Hamilton has given the new Kinetic Energy Recovery devices a firm seal of approval ahead of the 2009 season.
It is still not yet clear how many teams will run the energy storage systems at the season-opening grand prix in Melbourne with several of the leading outfits suffering setbacks in their development programmes.
Only yesterday Ferrari experienced a problem with their KERS cooling system during testing in Bahrain while Williams, the only team to use a flywheel mechanism as opposed to a battery storage unit, recently confirmed that they will defer using the system until later in the season.
There have also been fears over safety after a BMW Sauber mechanic was electrocuted last year.
McLaren however are believed to be on top of their development programme and both their drivers have been testing KERS extensively at the pre-season tests in Spain and Portugal.
Hamilton, who will begin his title defence in Melbourne, has got to grips with the device quickly and is looking forward to playing with the additional power under race conditions.
"To be honest, you very quickly get used to using the cockpit KERS button," he told the official Formula One website. "Don't forget that we already have a lot of dials and switches on the steering wheel, so another one or two buttons isn't going to make too much of a difference."
"And you soon learn how and when to use KERS; which corners benefit most from it and when you shouldn't be pressing it, when the car is already on the grip limit."
"Of course, unlike the engines, which are frozen, KERS development will continue throughout the whole season so it's an area where the teams will be making advances on a regular basis. But I like it – it's something else to play with in the cockpit, and that's not a bad thing."
Hamilton also has high confidence in the safety of the new devices with the FIA putting in place a rigorous emergency process to combat any incidents during the race weekend.
"Of course, there are safety concerns," he acknowledged, "but I'm extremely comfortable with the way both McLaren and Mercedes-Benz have approached the KERS programme."
"I can tell you everything related to KERS has been designed with safety in mind, so I'm happy that our car will be safe. And the way you use it will vary from track to track."
"Maybe some teams won't run it at every race. It's not a discussion that I'm involved in – I just press the button when I am in the cockpit!"