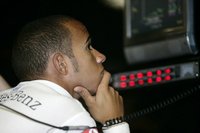 Lewis Hamilton s girlfriend, Pussycat Doll Nicole Scherzinger, appears to be inspiring him to try new things, with reports stating the racing ace is contemplating launching a music career.
"I do love music," Hamilton told Live News. "It s something I d love to be able to do some day. I don t believe that I have that talent, but I ve had a whirl, like the millions of people who do. If I wasn t a driver, I d like to do something that could take me somewhere.
"I play a bit of everything really, Bob Dylan, Lenny Kravitz, Jimi Hendrix. I sing more now than I used to. I have been told I have quite a good voice."
Scherzinger appears supportive of Hamilton s musical ideas and has said that the couple have already started writing songs together.
Should Hamilton decide to go ahead and record and release an album, he would not be the first to do so former F1 champion Jacques Villeneuve released an album in early 2007 with many of the tracks written by Villeneuve himself.