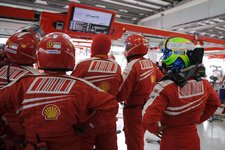 Scuderia in trouble after second no show of the season
Ferrari know they have to change their approach to race weekends if they are to get their championship campaign back on course.
The team has made costly mistakes in the opening races of the 2009 season which has has resulted in both their drivers failing to score a single point.
In qualifying for the Malaysian Grand Prix this weekend Ferrari's apparent complacency saw Felipe Massa knocked out of the first session, while a gamble on wet weather tyres in today's race effectively wrote off any chance of points.
Massa was left fuming in his cockpit when the race was stopped prematurely on Lap 32 due to severe thunderstorms.
"It was a chaotic race and it's easy in these conditions to take decisions, which later in hindsight, turn out to be wrong," he said. "When we fitted the rain tyres, we expected heavy rain to come soon and unfortunately it was just a light shower."
"Therefore, I came back in to fit intermediates and immediately after that, the downpour arrived. It's a shame, as I could have managed to get into the points."
He called on the team to analyse their mistakes but dismissed the need for radical change: "We definitely need to analyse our mistakes and understand how they can be avoided, but I don't think it needs a revolution which the always emotional onlookers demand: it would be wrong because it's not a case of us suddenly becoming stupid."
"It's the playing field that has changed. We must be aware of that and tackle the situation with a different approach."
Kimi Raikkonen was arguably the biggest victim in Sunday's race after the team switched him onto wet tyres on lap 18, three laps before the rain arrived.
"We were in a good position at the time of the first pitstop and then we made a mistake, fitting the rain tyres when the rain had yet to fall," the Finn commented. "And that was where my race was pretty much over. When the race was halted, the conditions were very difficult. There was so much water on the track and I was struggling to drive the car even in second gear."
"Clearly we cannot be happy with our start to the season: in Melbourne, I was the one to make a mistake and today it was the team, the result being we find ourselves without any points."
Ferrari team principal Stefano Domenicali admits the team will have to adopt a more pragmatic approach to the next few races.
"We are very disappointed because once again today, we leave a circuit empty handed. With hindsight, it's clear that we took some wrong decisions, especially in Kimi's case at his first pit stop: the information we had at the time was that the storm was due to hit in a very short time, when in fact it took a few more minutes for the rain to come."
"Felipe was very unlucky: another forty seconds or so and he could have stayed on track with the extreme wet tyres, finishing in a good position at the end of the race.
"Clearly we have to extricate ourselves from this situation, without panicking, but with every one of us taking on our responsibilities: we have to dig deep and react, starting immediately. We have to change our mentality and accept that we are in a different situation to the past and that therefore we have to tackle it with a different approach, both on track and in Maranello."
Ferrari have yet to score a single point following their double DNF in the season-opening Australian Grand Prix. That leaves the team 25 points behind Brawn GP in the constructors championship.