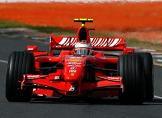 It appears Renault are not the only team who are looking for radical new solutions for their cars there are rumours that despite increasingly dominant performances during testing, the Ferrari team are considering adding a radical new element to their F2008 car in a bid to go even faster.
It is believed that Ferrari are looking to add an opening in the upper front portion of the F2008 s nose just where Bridgestone s B logo is currently located. At next week s test session, Ferrari are also expected to be testing some new wings, bargeboards and engine covers.
"Well, it s an interesting idea," Red Bull technical director Geoff Willis said when asked to comment on Ferrari s nose idea. "It s function is probably to use the central part of the front wing in a better way," he theorised.