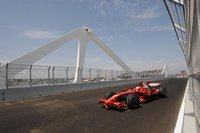 Ferrari are under no allusions that they must conquer the problems they have been having on their Bridgestone tyres if they are to take the fight to McLaren at Valencia.
The F2008 has been notoriously unkind to the standard issue Bridgestone Potenzas over the course of the single lap, while rivals McLaren have mastered the art of generating heat into their rubber quickly.
Kimi Raikkonen, who has been first to admit he is lacking his usual flair in the all-crucial knock-out sessions, has found himself drifting on the wrong side of the second row in the last few races and must get on par with the McLarens if he is defend his world championship.
One sign that the Scuderia seem to have made progress in the tyre-warming area is the fact that the team have reported little difference between the two tyre compounds that Bridgestone have brought to Valencia: the soft and the super soft. At Hungary in contrast, both Felipe Massa and Kimi Raikkonen struggled with graining problems on the latter.
"Today the track has been very dirty, which was in fact predictable," confirmed Ferrari Team Manager Luca Baldisserri, "however, the two types of Bridgestone tyre did not show up any great difference in their performance."
"It was important to get off on the right foot and we did. We had prepared a baseline set-up for the F2008 and it seems to be about right, which meant that right from this morning we could work on improving it."
"Both drivers are reasonably happy with the handling of the car. Now we have to analyse all the data we have gathered to work out how to move forward in terms of getting the best performance."
As Baldisserri acknowledged, Valencia's new street circuit, like the Hungaroring, was extremely dusty on the opening day of practice as winds, whisked up by the city's harbour, blew across the 5.4km circuit, hampering the less experienced, and catching out the odd star.
This makes Ferrari's early pace even more noteworthy. The scarlet duo were at the front end of the timing sheets all through the day, and wound up quickest of all in the afternoon session, courtesy of Kimi Raikkonen who seems to have re-discovered his mojo after a difficult few races in the wilderness.
"Today, our weekend got off to a good start, but obviously it is far too early to say where we are compared to the opposition," said the Finn. "Overtaking? It will be difficult, as always: I hope I don't need to by getting the best position in qualifying. The set-up we have found today is not bad, but there is still plenty of room for improvement."
Team-mate Felipe Massa meanwhile will be hoping to put the misery of Hungary behind him and re-establishing himself in the championship fight. The Brazilian wound up second and forth quickest in the top practice sessions.
"They were two enjoyable sessions with the lap times tumbling bit by bit as the drivers lapped and got confidence in the track layout."
"The track surface is still very dirty and it is easy to make mistakes which can lose you precious tenths and to do a good lap time you have to be perfect."
"I like the track: there's a nice atmosphere and I have to say the organizers have done a good job. Today, it was important that we find a good base set-up immediately and we managed to do that."